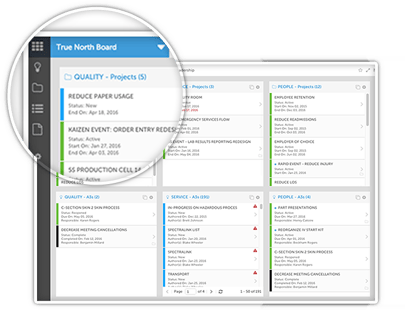 We don't find it surprising at all that a survey of Global 5000 CEOs undertaken by The Conference Board revealed that "Excellence in Execution" was the number one challenge of the majority of CEOs. It reflects what we hear from the C-level executives we speak to every day about continuous improvement. Regardless of the care and thought that goes into strategic planning, research shows a significant gap between the financial ambitions of leaders and what organizations are actually able to deliver.
One of the problems is that while strategy execution is essential to achieving business objectives most organizations have no solution in place to manage it. They have software for managing employees, supporting customers, producing products, and paying the bills, but nothing in place to support what is arguably the most important responsibility of the organization. Here are just three of the biggest challenges that strategy execution software can help solve for executive teams.

Lack of Clarity
The employees of most organizations do not have clarity about strategy, accountability, roles, and responsibilities.
Authors and developers of the Balanced Scorecard, Robert S. Kaplan and David P. Norton, wrote in the Harvard Business Review:
"The gap arises, we believe, from a disconnect in most companies between strategy formulation and strategy execution. Our research reveals that, on average, 95% of a company's employees are unaware of, or do not understand, its strategy. If the employees who are closest to customers and who operate processes that create value are unaware of the strategy, they surely cannot help the organization implement it effectively."
Strategy deployment software addresses this by cascading relevant goals and objectives down to every employee in the organization. This keeps the strategy top of mind and helps every individual understand how they can contribute to organizational success.


No Formal Process for Action
Too many strategic plans become relics, gathering dust until an annual or quarterly review. This approach does not give leaders the insight they need to ensure forward progress, remove road blocks, and accurately forecast success.
Strategy deployment software offers a real-time dashboard and reporting loop so that strategy execution can be managed on a daily basis, problems can be solved before they imperil timely achievement of breakthrough objectives, and leaders always know if they are on track to meet projections.


No Insight into Impact
Even if executives have a good idea about which activities to further the strategy are being executed, few have an effective way to determine whether these activities will be enough to change the game and reach stretch goals. This makes forecasting difficult and impedes decision making in terms of where to invest for the biggest bang for the buck.
With strategy execution software in place, however, the impact of improvement efforts can be calculated and tracked. With this visibility, leaders are better equipped to turn the dials up on what is working and address anything that isn't.