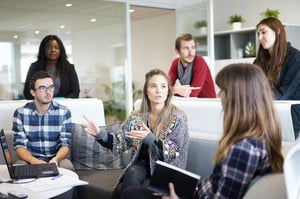 Kaizen events are an effective way to implement significant improvements in short order. They are used to tackle all sorts of issues from workplace organization, to process optimization and everything in between. Because Kaizen events are resource intensive, usually pulling people from their ordinary work for three to five days, it is essential to get the most out of every one. We've had lots of in-depth conversations with clients who've conducted rapid improvement events of all sorts. Some of them exceeded the goals of the projects, while others didn't work out very well at all. Here are some of the things our clients have shared that can make all the difference.
Listen to this post or subscribe to the podcast:
Have a Facilitator and an Executive Sponsor
Ensure the productivity of your Kaizen event team by appointing someone to be the event facilitator. Ideally, this should be someone with experience in Kaizen events and team leadership. The facilitator isn't the dictator, but he or she serves to keep the project moving, keep all stakeholders informed, ensure that proper documentation is completed, and moderate the group's discussions. It is also very helpful if each event has an executive sponsor. This signals the importance of the event to the organization and gives the team a resource if any roadblocks come up.


Treat the Kaizen Event Like a Business Process
The first thing we mean by this is that the event should have a roadmap and documentation. You wouldn't put employees to work on any other business process without a clear set of expectations and desired results. The same should be true for your Kaizen event. It is a process with a defined beginning, middle, and end. The second thing we mean by treating the Kaizen event like a business process is to recognize that it too should be the subject of improvement. Before you begin your next event, review the prior one and determine if it could have been more efficient or effective. If so, make the appropriate adjustments.


Provide Training and Practice
We are surprised at how often people are just thrown into a Kaizen event without any training. People don't automatically know how a rapid improvement event works. Take the time to teach all participants about the Kaizen mindset, the flow of the event, their specific role, and what to expect before, during, and after. Training is important, but practice is also needed to keep participants in top form. Involving new employees or providing an opportunity to hone skills that haven't been used in a while are perfectly valid reasons for doing a Kaizen event on their own.


Ensure the Improvement Lasts
No one wants to go through the effort of a Kaizen event only to see the improvements deteriorate over time. To ensure long-term success, build periodic check-in's and reporting into the event's follow up plan. Track the immediate results of improvement, but also hold the team accountable for reporting results at one month, six months, one year, or whatever intervals make sense for the situation. You also want to make sure that any Related standard work is updated appropriately and that any helpful documents, including the charter for the Kaizen event, are readily available to anyone who needs them.
Fruitful Kaizen events don't happen on accident. They require preparation, planning, and practice. (Improvement software helps too.) Keep this advice in mind as you ready the team for your next rapid improvement experience and we know you'll be delighted with your results.