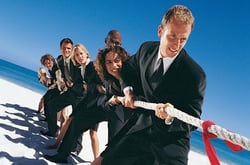 We've written before about what to do and what not to do when conducting a Kaizen Event. Today seems like a good opportunity to focus on the who. Which players are essential to a successful improvement event and what are their roles and responsibilities? Here are our recommendations.
The Facilitator
Someone needs to be responsible for making sure that the Kaizen Event flows smoothly from start to finish. This facilitator will organize prep meetings, collect data in advance, and report results. We recommend that the facilitator is someone who will not be directly impacted by decisions made during the Event and one who is unlikely to have a preconceived opinion about which changes should be made. Some organizations choose to use a professional outside facilitator while others select a capable staff member from an internal team.
The Process Owner
This is the person who is responsible for the process to be addressed during the Event. He or she is likely a director, manager, or supervisor. The process owner is responsible for supporting the facilitator in coordinating logistics, obtaining supplies and equipment, facility and team member access, and so forth. They will also help the facilitator select the other Event participants and rearrange resources so that all required team members can be available to participate. The process owner is essential to scoping the project and providing background information.
Subject Matter Expert(s)
Depending on the technical complexity of the process being addressed, one or more subject matter experts may be required. They may not need to participate in every aspect of the Event, but should be "on call" to address any specific issues or questions that arise. The same sometimes applies for specialists from areas like IT/IS or facilities.
Team Members
It is critical to involve some of the people who actually do the work on a day-to-day basis in your Kaizen Event. They are closest to the front line and uniquely understand and feel the roadblocks to a painless, efficient flow of work. They likely develop ideas for improvement based on what they learn during the early stages of the Event.
Other Useful Voices
While the four roles above are almost always necessary, there are some others that may or may not be helpful, depending on the nature of the event and the type of problem to be solved. For example, it may be useful to include internal or external customers as part of your event, especially if the object is to improve customer satisfaction or to address a problem that affects them. In the case of a major or cross-functional change, an executive sponsor might be necessary to provide resources or to simply signal support for the team's work. Some events also benefit from the inclusion of people who know little or nothing about the process, often referred to as "fresh eyes." They often ask unexpected questions that lead the team down a path that might otherwise have gone unexplored.
Choosing the right players from the beginning will set your Kaizen Event up for success. You don't need a cast of thousands, but you should have a mix of insights, experience and points of view. It makes sense to think as much about the who as the how.