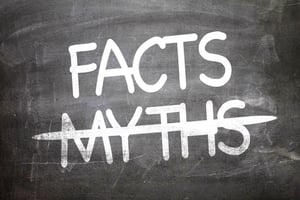 When someone comes to us asking for information about our Kaizen software, we like to ask a ton of questions. It helps us to understand their business and their approach to improvement. We ask about the team, the key business objectives, and past improvement efforts.
The subject of Kaizen events comes up often because so many organizations have tried or are looking to try the technique. These conversations reveal that there is a lot of "fake news" floating around about Kaizen events.
We'd like to set the record straight.
Here are things people say about Kaizen events that aren't true:


1 – You Must Choose Between Kaizen Events and Daily Improvement
Lots of people think that Kaizen events and daily improvement are an either/or choice. This is not the case at all. Kaizen events are a great way to tackle certain types of problems (more on that later), but daily incremental improvement is perfect for issues that are not complicated or that would yield less significant, but still important results. There's no reason in the world why an organization wouldn't use both Kaizen events and other daily techniques like Catchball, Gemba Walks, and the 5 Whys as well.


2 – Kaizen Events Don't Work for Our Company
We often hear that an organization has tried Kaizen events in the past with disappointing results, so they've decided not to try the approach again. That's unfortunate because even a failed event contains important lessons. The skills required to understand why any improvement technique didn't work are exactly the same ones needed to improve business processes. Rather than giving up, teams should take the opportunity to delve into what when wrong and how next time could be better.


3 – You Don't Need a Plan
I think that because Kaizen events are called "events" that people think that everything is self-contained within the three to five days of action. That may explain some of the prior misconceptions. Effective Kaizen events require planning and forethought ahead of time. Teams should go into the event prepared with a clear understanding of the goals, roles, and expected outcome. (We have a handy roadmap to help.)


4 – Rapid Improvement Events Can Solve Every Problem
You've heard the saying, "When all you have is a hammer, everything looks like a nail." Kaizen events are not the right tool for every job. They work best when a problem is challenging, but not so complex that it can't be solved within the tight time frame of the event. They are very well suited for issues that require cross-functional collaboration, and those with a significant potential impact. If the impact will be small it doesn't make a lot of sense to pull people out of their normal duties for several days to resolve it.


5 – Kaizen Events are Leaderless
While it is important that everyone on a Kaizen team has a voice and participate in how the event unfolds, every good team needs a quarterback to call the plays. Some organizations turn to professional facilities for their Kaizen events, while others use internal folks trained for the task. In either case, there should be one person responsible for assembling the team and reporting results back to leadership. Many organizations find that this is a good way to help employees develop leadership skills.


6 – It's Over When It's Over
We said earlier that the work begins well before the event. Well, it also extends well after. It is necessary to track the results of the event long into the future and to put checks in place to ensure that the change is long lasting. Successful organizations often set a 30-day, 60-day, 6-month, and one-year review schedule to calculate the impact and ensure continuity.


7- Email and Spreadsheets are Sufficient Tools
Many Kaizen events have been completed using only Microsoft Office tools, but it makes a lot more sense to arm the team with technology designed to support this type of work. With automated alerts and notifications, search capabilities, advanced reporting, and document management, Kaizen software speeds the path to success and ensures that the rest of the organization can learn from the experience long into the future.


8 – People Know How to Effectively Participate in Kaizen
Lack of training prior to a Kaizen event is a common mistake. Most people don't have any experience with them. It is essential to train the team members so they know what to expect, how to prepare, and how their results will be measured.
Kaizen events are an effective way to tackle a wide variety of challenges in short order. If you've heard any of these fallacies, we hope you'll push back and help your organization gain all of the advantages that the technique can offer.