If you've decided to invest in technology to support your organization's improvement efforts and enhance adoption of the Kaizen philosophy, congratulations. That decision will have a significant impact on your team's ability to achieve and sustain improvement momentum. You have several options when it comes to Kaizen software, so it is helpful to understand the most important features that should be included in any solution that you consider. Here are our top seven.


Structured Improvement Management
Capturing ideas for improvement is a central purpose of Kaizen software. Make sure you look for solutions that allow people to enter new ideas for improvement and work on current projects from any browser, email client, or mobile device. The best solutions allow you to customize the interface to accommodate the variety of improvement methodologies that you rely on. You'll need to be able to capture everything from daily Kaizens and A3s to Kaizen Events and projects in the same place in order to align everything with your strategic goals.


Digital Kaizen Boards
You may be familiar with physical Kaizen boards, which are a useful, albeit limited, way of visualizing improvement work. A cloud-based Kaizen solution takes this idea to the next level by making visual management. Leaders can instantly get insight into the health of the team's improvement work from anywhere. You can use the layout you like best and even manage many different boards at once. Make sure that you don't lose the benefits of in-person conversation, though; display your digital boards on a screen in public places just as you would your traditional physical ones. The digital aspect means that you can view and update them from anywhere, while the wall displays ensure that Kaizen is still prominent in daily work and conversations.



Automatically Updated Charts and Data
The practice of Kaizen requires data-driven decision making. Leaders must analyze trends and drive the organization toward strategic goals and objectives. Your Kaizen software should support this with graphic representation of improvement metrics in easy to understand charts and graphs that are readily accessible to everyone from the front line to the C-suite. Select software that enables you to enter your new data in one place and have it update everywhere else automatically.


Comprehensive Search
The ability to search your Kaizen database is a simple idea, yet it is incredibly powerful and often overlooked. The information contained in your solution to each problem or inefficiency becomes your organization's repository of improvement knowledge. You should be able to easily search by topic, department, or status. Look for solutions that let you filter results so that you can quickly get answers to whatever question is on your mind.


Robust Reports
The Kaizen software solution you select should have the ability to produce reports that give you valuable information about the impact of your improvement work and the health of your Kaizen culture. This will allow you to monitor engagement, identify key players, and track the progress and impact of improvement work. Increasing visibility into these key metrics makes it easier for you to keep your team on track, know where your coaching is needed, keep executives in the loop, and inspire employees to get more involved.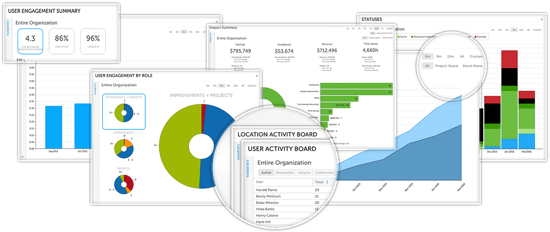 Smart Notifications
Alerts and notifications help keep people engaged in improvement and ensure that projects don't stall. You want to look for a solution that gets the right balance of useful notifications, rather than information overload. Good Kaizen software sends the right information to the right people at the right time so that your team stays connected between meetings and improves with maximum efficiency.


Support for Collaboration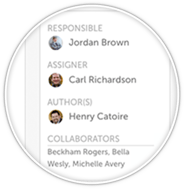 Kaizen is a team sport, so it is important to choose improvement software that makes it easy for teams to work together, even if they are not physically located in the same place. Leaders should be able to easily assign improvement work to individuals and track their results. Comments, status updates, and metrics should help keep everyone in the loop.
You don't need (or want) a solution with a million bells and whistles that no one will ever use, but you do want to make sure that any Kaizen software you choose has these seven crucial capabilities. When you do, you'll be well on your way toward solving your organization's biggest challenges and achieving your most important goals.
Download this free eBook to learn more about continuous improvement software!