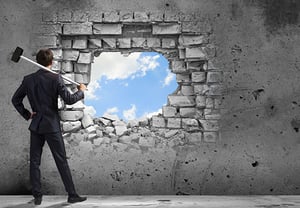 Here's an interesting question. What keeps improvement from happening organically? Why is an improvement culture something that we have to work to attain? After all, who doesn't want to work in a more efficient organization with high-quality products and outstanding business results? Shouldn't companies naturally progress toward perfection?
In reality, it's not that easy. There are inherent barriers that get in the way of improvement, especially for front line employees. Fortunately for companies that strive to embrace positive change, Kaizen software can help overcome some common obstacles to improvement.
From Chaos to Order
A common challenge for organizations is that improvement efforts are disjointed and are approached differently by different departments. Kaizen software helps to break down those silos and unify the efforts of the entire company by providing a common methodology and language for improvement. It also makes it possible to align improvements at every level with the organization's most important strategic goals and objectives.


From Afterthought to Priority
People are busy and inboxes are full. It's easy for improvement work to get lost in the shuffle with everything else that's going on. Kaizen software helps keep improvement in focus. With smart notifications and a simple, unified portal for all related communications, it is easy to sustain the momentum of improvement. The right people get the right information at the right time, so nothing falls through the cracks.


From Guessing to Knowing
It is very difficult to maintain employee and executive enthusiasm for improvement, unless you can demonstrate the business impact. The best Kaizen software solutions allow you to track baselines and measure the results of improvement projects. This helps justify the continued investment in improvement to executives, as well as to show frontline employees the impact of their efforts in real-time.


From the Wall to the Cloud
Kaizen boards are a popular method of tracking improvement work, and we think they're terrific. But, a paper board hanging on a wall has many limitations. Web-based Kaizen software lets you move that board into the cloud so that it can be accessed by everyone from anywhere while still being displayed on the wall wherever needed using digital displays. This allows both local and distributed teams to work seamlessly together, and their improvements are permanently stored in the cloud for future reference.


From the Few to the Many
Knowledge is not something that is, or should be, confined to one or two high performing employees. Kaizen software provides a repository for the collective wisdom your organization builds around improvement. It makes it easy for everyone to see what's worked well before and which lessons have already been learned.


Yes, improvement can happen in a vacuum, but sitting back and hoping for spontaneous progress is not the most effective strategy. Kaizen software can remove some of the biggest boulders that get in the way of positive change.