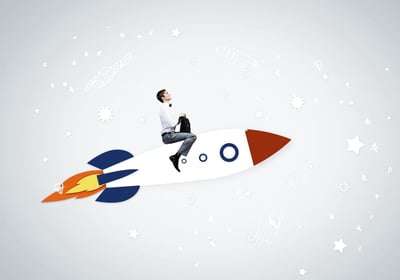 We are occasionally asked if it is possible to implement Kaizen without using software.
The answer is yes.
It is possible to adopt a continuous improvement mindset, embrace the belief that positive change is everyone's responsibility, and execute improvement projects all without a dedicated solution to support the effort. Heck, Toyota did it before email was a thing.
However, we can say with confidence that organizations that do choose to leverage a Kaizen software solution see more impactful improvements in a shorter period of time. They are able to manage more projects and capture more opportunities.
This post is about how and why.


Support for the Cycle of Improvement
If you think about the cycle of improvement, it breaks down into four phases:
Capture opportunities for improvement: Kaizen software serves a collection point for all opportunities because it is available to everyone from anywhere, ensuring that opportunities aren't lost in the shuffle or forgotten.
Implement some share of those opportunities: Not every opportunity will be implemented, but organizations that use Kaizen software find that they are able to implement more of them because there is a systematic and consistent way of reviewing each submission, assigning it a priority, and kicking off a project to get it done.
Measure the results of improvement as well as engagement with improvement work: Measurement is one of the most often neglected parts of the cycle when supporting technology is not in place. Without a simple and accurate way to measure the impact of improvement and understand how fully the organization is engaged, enthusiasm for Kaizen quickly wanes and improvement work loses momentum.
Share knowledge across the organization: According to the Kaizen philosophy, even the act of improvement should always be getting better. Kaizen software provides a repository of knowledge and data that can help each improvement project build on the last. Employees can search for similar problems and apply lessons learned.


What Does Kaizen Software Give You?
What Kaizen software offers is a holistic and consistent way to manage your Kaizen culture. You get:
Accessibility: Leaders and team members can work together regardless of where they happen to be. Because everything is centralized in one version of the truth, nothing falls through the cracks.
Transparency: Key performance indicators (KPIs) can be measured against goals and the status of projects tracked in real time. This helps everyone from the top down make data-driven decisions.
Efficiency: The hodgepodge of tools that people often use for improvement work, email, spreadsheets, huddle boards and the like is replaced with one unified home for communications, document management, and reporting. If you are looking to cut the wastes of motion and over processing in your improvement work, this is a good place to start.
Accountability: Kaizen software makes it possible for managers to have insight into what everyone is working on. It gives team members a way to demonstrate their engagement and helps ensure that each person is invested in getting excellent results. It ties performance evaluation directly to improvement.


What Does Kaizen Software Help You Do?
In addition to these general benefits and capabilities, there are some very specific things that Kaizen software helps leaders do, including:
Identify causes of slowdowns: With full visibility into project activities and employee engagement, leaders can recognize trends and act quickly when progress stalls or activity is diminished.
Get more out of meetings: With Kaizen software in place, less time in meetings needs to be devoted to project updates because everyone is up to speed in real time. Instead, meetings can be spent on higher value activities like strategic planning and coaching.
Ease your administrative burden: With less time spent managing spreadsheets and looking for the right email, you can focus on your top priorities and spend less time on the mundane.
Bring the right people together: Many of the most useful improvement projects are those that involve cross-functional teams. One standard Kaizen platform for the organization makes working together across organizational boundaries much easier and more effective.
Identify areas to improve: With all of your improvement opportunities and projects in one place, you can identify specific process types or parts of the organization that need the most attention. You'll recognize trends and be able to get out in front of challenges.
Instead of asking if you need Kaizen software, we challenge folks who ask to think about why you wouldn't want it. It helps you get more improvements completed faster and more efficiently while increasing engagement and transparency. Who wouldn't want that?