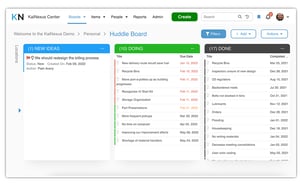 The Lean business management approach is comprised of a set of techniques and tools designed to achieve the maximum delivery of value to the customer with as little waste as possible. Lean practitioners strive to get the customer what (and only what) they want, exactly when they want it. Lean management systems are technologies that help make this possible. Sure, you can practice Lean without software to support the effort, but organizations that have leveraged technology built for this purpose have found it to be well worth the investment.
Here are 9 of the reasons why:
#1 – It serves as a Lean hub
There are many Lean tools to help you manage your processes, but how do you manage those Lean tools? A Lean management system creates a unified platform for all improvement work.
#2 – It is there when inspiration strikes
People don't just have great ideas for improvement while they happen to be in a huddle or working on a Kaizen event. They happen all the time. With Lean software, opportunities for improvement can be captured no matter when or where they are found.
#3 – It creates a common language around improvement
Teams communicate best when they use the same words and terms to describe improvement work. Lean management systems serve as a uniting force, encouraging everyone to adopt the vocabulary that is native to the system.
#4 – The investment underscores the commitment of leadership
Chances are that your employees have seen new business management methodologies come and go. Everyone gets amped up about it for a while, but it quickly peters out and things go back to the way they were. Investing in technology changes the game and lets people know that management is serious about the Lean approach.
#5 – Improvement momentum is sustained
Passive tracking methods like spreadsheets and physical huddle boards do little to ensure that improvement work stays top of mind. Lean management systems include notifications and alerts that keep people actively engaged.
#6 – Knowledge is never lost
Lean software serves to create an archive of every improvement effort. All of the documents associated with each project are easily accessible for review even long after the improvement is complete. This way, your tribal knowledge expands, but never contracts when people leave the organization or change roles.
#7 – Leaders gain valuable insight
Which employees, teams, and departments are most engaged in improvement work? How many Lean projects are in process? Is this number trending up or down? Lean management systems give leaders an easy way to these questions and more.
#8 – Goals are aligned
Moving toward the organization's most important short and long term goals is an important aspect of the Lean approach. Lean technology allows leaders to cascade goals down the organization so that how each person is evaluated is aligned to the corporate strategy.
#9 – The impact of Lean can be calculated
Lean software makes it possible to evaluate the impact of each improvement in terms of reduced cost, increased revenue, improved efficiency, higher quality, and better customer satisfaction scores. Once you understand which types of improvements offer the most benefit, Lean efforts can be optimized. This also helps the organization maintain enthusiasm for improvement over the long haul.
Lean management systems create a solid foundation for your improvement work. There are benefits for executives, managers, and employees. If you are serious about Lean, it makes all the sense in the world to set the stage for success.