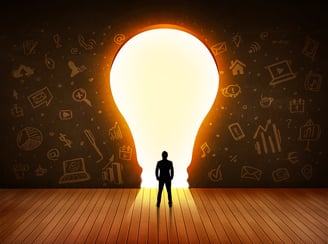 Continuous improvement work cannot exist in a vacuum. In order for the fire of change to burn hot and bright, it needs a fuel source. The CI Leader who spends all day behind a desk reading reports, creating A3s, and sorting through employee-submitted improvement ideas will find themselves running on fumes in the blink of an eye. We don't run our cars without gas in the tank, so why do we try to run our continuous improvement work that way? Without a refill, that work will start to slow and sputter until it loses that last bit of momentum that was keeping it going. Your CI projects will end up abandoned and forgotten on the side of the road. Luckily, no matter how much the price of gas might rise, refilling your CI tank will never cost more than a trip to the Gemba.

Anyone who thinks they can run a successful continuous improvement program from the comfort of their office doesn't understand the very nature of the work they're attempting to do. No one is saying they're not highly qualified or knowledgeable about ways to improve processes to achieve better results. However, if they are not speaking to the people implementing those processes and doing the work every day, they are missing the point entirely. It is worth repeating; continuous improvement work cannot exist in a vacuum.


A great CI leader seeks out feedback on the changes they want to make before making them. And then, once those changes have been made, they continue asking for feedback until there isn't any more to find. This feedback is what drives the success or failure of a new initiative. Does that new process that sounded so good on paper suddenly turn a 5-minute job into a 10-minute one? Is that brand new process putting a smile on employees' and customers' faces alike? That's the kind of feedback that can only come from the Gemba.
On a recent call with one of our healthcare customers, the conversation started with an impromptu discussion about the power of going to the Gemba. When I say power, I don't just mean the information gathered from seeing the work done. It's more than jotting down observations and recording metrics to ensure tasks are completed to the standards that have been set. The power of going to the Gemba is the fuel it provides to keep doing the continuous improvement work. It's seeing a new process in action, speaking to workers whose lives are now easier because of bottom-up improvement ideas that were collected and executed. In the context of healthcare, it's seeing the heroics of the doctors, nurses, and support staff who give the hospital everything they have day in and day out. It's seeing healthier patients, lower readmissions, and an overall increase in their satisfaction. Every cog in the machine is running a little bit smoother because of the CI work executed behind the scenes, and it's impossible to see those impacts from behind a computer screen.
True leaders in process improvement don't just do the work for a better ROI and a healthier financial report; they do the job to positively impact those most impacted by the results. They visit the Gemba to continuously refuel their tank and keep doing meaningful and impactful work. They know that the most substantial outcome of CI work isn't in spreadsheets or graphs but in its impact on the people and the products.