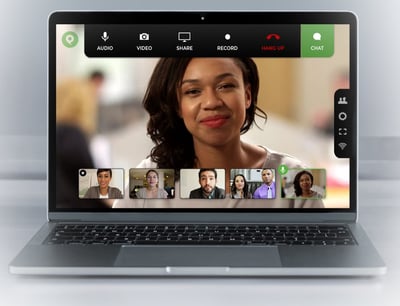 The number of people who work from home has been growing at a steady pace for years. Widespread high-speed internet access and a ton of new productivity applications made it possible for 4.7 million people, 3.4 percent of the U.S. population, to work from home this February.
Of course, everything has changed since then.
Now, remote work isn't a trend or a perk, it's an imperative for all non-essential workers for the foreseeable future. All over the world, people are finding ways to adjust in-person processes to this new reality.
If daily huddle or stand up meetings were part of your team's routine, we have some advice on how to transition them to virtual video conferences. Many of these tips will apply to any type of meeting you do via video.

Digitize the Huddle Board
If you haven't done it yet, now is the time to move your huddle board off of the wall and into the cloud. Doing so will make it possible for everyone to view and interact with your boards from wherever they are. Digital huddle boards have additional benefits you'll be able to:
Provide as needed access to boards across the organization
Keep a digital record of all projects and progress
Improve cross-functional collaboration
Keep goals aligned
Broadcast success
During your meeting, everyone will be able to look at the same information and stay engaged and informed.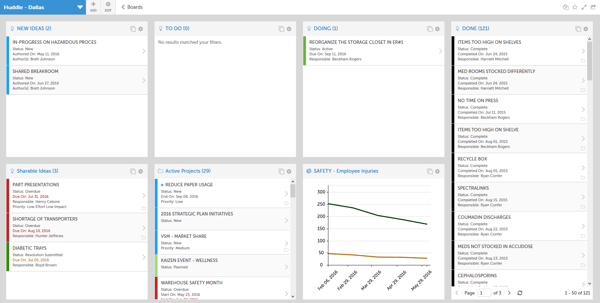 Choose Video Conferencing Software
If you have an internet-based phone system, the provider may also offer video meeting capabilities. If not, there are lots of options on the market. Many companies are even offering video conferencing for no charge during the pandemic shutdown. Pay attention to caps on the number of attendees and conference duration.
When evaluating solutions, look for something that is easy for employees to use on their laptops or mobile devices. It should include moderator controls, screen sharing, and both phone and computer audio. Of course, security should be a top concern as well. You'll also save your IT team some headaches if you choose a browser-based solution that does not require software downloads.


Make Sure Everyone is Set Up for Video Meetings
Because the switch to home-based work was unplanned and abrupt, there could be some gaps in technology and equipment. It makes sense to do an assessment of your team's setup. Does everyone have a device with a camera? Does everyone have a headset to help keep background noise to a minimum? Are there any employees with poor internet connections? Addressing these potential issues at the outset will help your meetings go smoothly.


Discuss Video Etiquette
For many workers, video huddle meetings may be their first introduction to this type of virtual collaboration. That's why it's a smart idea to talk through some of the ways to be polite while on a video conference.
Everyone should try as hard as possible to make sure that their background won't be distracting to other participants on the call. Having a window behind you, for example, can cause glare for others and make you hard to see. Headsets should be used whenever possible in lieu of using a laptop or a mobile phone as a speaker phone.
Activities that wouldn't be appropriate in an in-person meeting should be avoided. Everyone will be at home, but a video call isn't the time to "make yourself at home."


Select a Moderator
How the huddle meeting will play out will vary depending on the size of your team, the culture of your organization, and how your meetings were run in the past. But for most video meetings, it makes sense for there to be a moderator assigned to manage the technical aspects of the call.
For meetings with more than ten people, it is best for everyone who isn't speaking to be muted by the moderator until they are ready to speak, which can be indicated in the meeting software. In addition to controlling audio settings, the moderator should watch the chat messages and intervene if someone has a question or reports a technical problem.


Keep Huddle Meetings Short and Focused
The goal of the daily huddle is to agree on the priorities for the day. (That's why they are daily.) In most cases, they should be kept to about 15 minutes. Using video may add a few minutes to your call, but it shouldn't turn into a marathon. With a digital huddle board in place, everyone can take a look at the progress of improvement projects and come prepared with discussion topics or questions.


We should note here that working from home can be isolating, especially for people that aren't used to doing it. Video conferencing is a great way to maintain connection and social support. We highly recommend a video "water cooler" meeting in which people can just chat about anything they'd like, or you can try a virtual happy hour at the end of the day. These types of meetings will help maintain team cohesiveness and provide some relief to loneliness. But it's best to keep that separate from the daily huddle meeting which will be devoted to the business priorities of the moment.
We're all learning on the fly right now and adjusting to a changed world. It's not easy, but it is a good opportunity to try some new ways of working and functioning as a team. Video daily huddles are the next best thing to being in person.
Finally, we would be remiss if we didn't take a moment to recognize and thank all of the essential workers who are not able to stay at home. We need you and thank you.