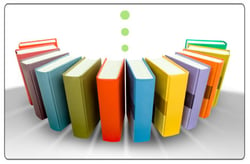 Maybe it is just me, but I always feel a little caught off guard this time of the year when I walk into Target or the grocery store and see the backpacks, notebooks, and colorful writing implements so prominently on display. The back-to-school shopping season is the first reminder that the summer won't last forever.
This year it also reminded me that although grownups don't go "back to school," every year, we should invest in ourselves by continuing to learn. We can increase our effectiveness and value by learning new things and looking at familiar ideas with a fresh perspective. For those interested in Lean Leadership, there are just a few books by distinguished authors that might introduce some new ways of thinking about your approach to improvement. Here are some that earned five-star reviews... just a few of the books you might want to have on your shelf or e-Reader.

The Toyota Way to Lean Leadership: Achieving and Sustaining Excellence through Leadership Development
Written by Jeffrey Liker, a Professor of Industrial and Operations Engineering at the University of Michigan and president of Liker Lean Advisors, LLC, The Toyota Way to Lean Leadership, has been called, "the most important book ever published to understand and guide 'True North Lean' and the goal of perpetual business excellence."


Developing Lean Leaders at all Levels: A Practical Guide
Developing Lean Leaders at all Levels was also co-authored by Dr. Liker. It was a recipient of the 2016 Shingo Research and Professional Publication Award (the same recognition given to our Mark Graban for his books Lean Hospitals and Healthcare Kaizen). This book is designed as a guide to actively developing Lean leadership skills as you read.


Practical Lean Leadership: A Strategic Leadership Guide for Executives
Bob Emiliani, a professor, author, and historian focused on leadership and management is the author of Practical Lean Leadership. It is a workbook that focuses on linking Lean tools and principles to leadership behaviors and workplace realities. Professor Emiliani addresses the roadblocks and attitudes that challenge Lean leaders.


The Simple Leader: Personal and Professional Leadership at the Nexus of Lean and Zen
Author Kevin Meyer has over thirty years of executive leadership, operations, and engineering experience. He is the co-founder of GembaAcademy.com. The Simple Leader describes his personal continuous improvement journey as the president of a medical device company. Reviewer Adam Zak, co-author of Simple Excellence: Organizing and Aligning the Management Team in a Lean Transformation, said, "In The Simple Leader Kevin demonstrates how each of us can gain leadership clarity by reducing leadership strategy and processes down to a handful of important truths."


Innovating Lean Six Sigma: A Strategic Guide to Deploying the World's Most Effective Business Improvement Process
Innovating Lean Six Sigma is a step-by-step guide that shows you how to personalize and apply the principles of Lean Six Sigma to your own organization's challenges. It was written jointly by Kimberly Watson-Hemphill, founder, and CEO of Firefly Consulting and globally known expert in the field of Innovation and Operational Excellence; and Kristine Nissen Bradley, a Principal with Firefly Consulting. The work outlines an innovative approach to the Lean Six Sigma process focused on making small adjustments that have a big impact.


Hoshin Kanri for the Lean Enterprise
Hoshin Kanri for the Lean Enterprise by Rona Consulting Group principal Thomas L. Jackson is a practical guide to improving performance in organizations by implementing hoshin kanri (also called policy deployment, strategy management, and the "balanced scorecard"). Hoshin is the master control methodology, geared perfectly to the management of the radically decentralized decision making that characterizes lean companies such as Toyota and Canon and leading healthcare organizations such as the Virginia Mason Medical Center and Park Nicollet Health Services.
Each of these books is an excellent resource for continued professional development. We're sure that you'll find some interesting new ideas as well as some useful reminders about the foundational principles of Lean leadership.