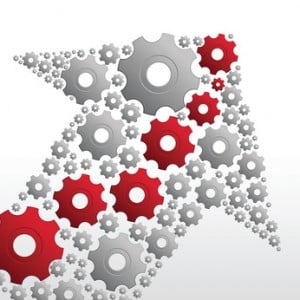 Value stream mapping is a technique that involves analyzing and improving the steps in any process that takes a service or product from the request into the hands of the customer. The goal is to compare the current state to a perfect state in which value is maximized and waste is eliminated. The result of value stream mapping is not the artifact of the map itself, but rather, the changes to processes that lead to positive change.
It is important to consider value stream mapping software with that goal in mind. Software that simply digitizes the map does little to support the underlying goal of improvement. Instead, the focus should be placed on features that are designed to document, accelerate, and capture the results of opportunities for improvement.
Here is how the right technology can support the entire value stream mapping process.
Planning
Value stream mapping events should be coordinated affairs with all of the right stakeholders and subject matter experts involved. The software you select should have features that allow the person who is coordinating the effort to bring the team together and document the scope and goals of the effort. Before the VSM exercise begins, it is also essential to capture data related to current processes and results. With the right software solution in place, all relevant information can be gathered and captured ahead of time so that a baseline for improvement can be established.


Execution
Once the current state and desired future state of the value stream map have been established and evaluated, the important work begins. Your value stream mapping software should allow you to upload all of the relevant documents and associate them with the agreed upon steps for improvement. It should also help ensure that forward momentum is maintained by providing notifications and alerts to participants and managers. It should be easy to visually track the progress of each opportunity for improvement.


Evaluation
Once all of the improvements identified during the value stream mapping effort are complete, it is essential to evaluate the results to determine exactly which business success metrics have been impacted. The technology you choose should make it easy to calculate, report on, and share the results, which will eventually become the baseline for the next attempt at improvement. With the right solution, you'll start to form a repository of institutional knowledge that will make each value stream mapping exercise more effective than the last.
Technology can support many of the Lean, Six Sigma, TQM, and other methodologies and techniques that those of us dedicated to continuous improvement deploy. Value stream mapping software is one example. Be sure to choose a solution that focuses on the goals of VSM, not just the map.