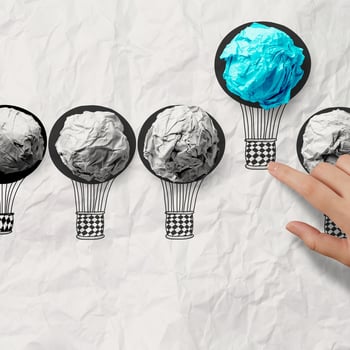 When people think of the Lean business management methodology, they often associate it primarily with waste reduction. The elimination of waste is indeed a significant goal of Lean organizations, and it does become a significant factor in decision making, but attention to waste reduction alone does not make an organization Lean. There are several factors that successful Lean organizations have in common.
Here are a few of the most important.

Respect for People
Lean practitioners recognize that every employee can contribute to positive change. In fact, the people who are best positioned to improve process performance and outcomes are the ones who are directly involved in the work. Respect for each individual and the belief that innovation is not a top-down exercise are the foundation of Lean.


Precise Alignment of Goals and Strategy
Lean organizations define and work toward breakthrough objectives and quantifiable goals. Documented objectives exist at the organization, department, team, and individual levels. Goals are cascaded down from the overall strategy to ensure that the organization is well aligned and that everyone is rowing in the same direction.


An Appetite for Experimentation
There isn't always a straight line to improved processes and less waste. Lean leaders recognize that experimentation is a necessary part of positive change. This means embracing the "fail forward" mindset and allowing for some degree of trial and error. Of course, process changes should be well-considered and have a reasonable chance of achieving the desired outcome. Improvement cycles such as DMAIC and PDSA help to control the process without shutting down innovative thinking.


Quantitative and Qualitative Measurement Tools
Lean organizations are very good at establishing baseline metrics and tracking the most important performance indicators. These might be financial metrics which are relatively easy to track, but often also include qualitative measurements such as customer satisfaction and perceived product quality. Once the most critical KPIs are identified, Lean leaders ensure that the right tools are in place to measure them and that a regular cadence for reporting is established.


Documented and Socialized Standard Work
Overestimating the importance of Standard Work in Lean organizations is impossible. A fully documented and consistently applied standard is the essential starting point for any process improvement endeavor. The people who do the work develop the Standard. It is accessible and easy to understand. Any change to the process that becomes the new best practice requires an update to the Standard work documentation.


High-quality Employee Development Programs
We mentioned respect for people right at the start of this post. One way that Lean organizations demonstrate that respect is to offer employee development and training programs. In fact, the practice of Lean opens up the opportunity for employees to learn new skills and demonstrate their ability to lead and collaborate. People who are creative thinkers and adept problem solvers thrive in a Lean environment.


A Culture that Values Collaboration and Avoids Blame
The focus of Lean is always on process improvement, not on placing blame for failures on individuals. If something goes wrong, Lean leaders look to determine how to correct the issue and prevent recurrence. This shift in thinking encourages employees to be more candid and willing to make suggestions. Collaboration is another critical aspect of Lean culture. Waste and inefficiency are often found in the handoffs between functional areas, so teamwork is often required to identify root causes and implement improvements.


Tight Focus on Customer Value
In Lean, waste is anything that does not result in increased value to the customer. That means that Lean organizations see every process and problem through the customer's eyes. Any task, expense, or feature that the customer wouldn't happily pay for is targeted for elimination or reduction. The strategic goals of the company must be well aligned with the customer's needs.


A Well-stocked Lean Toolbox
Fortunately, there are many tools designed to help Lean organizations turn everything that we've just mentioned into reality. Kaizen events help implement improvements in short order, value stream maps lay out the current process state as changes are considered, the 5 Whys allows teams uncover the root cause of business problems, and Kanban boards visualize improvement work. These days, organizations also turn to software platforms that provide structure and support for Lean. Software helps to coordinate all improvement activities, keep forward momentum moving, and give leaders insight into the strength of Lean across the organization.

Leaders poised to take their organization through a Lean transition should consider each of these attributes and outline a path to making them a reality.