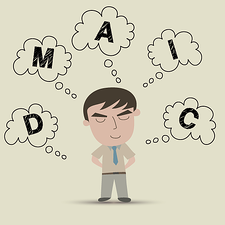 Six Sigma was developed by Motorola in the mid 1980's as a set of techniques and tools for manufacturing process improvement. It was adopted as a central business strategy by General Eclectic in the 90's and is a popular approach to continuous improvement in many industrial sectors today. However, the Six Sigma approach, and DMAIC in particular, outlines a way of identifying and challenging wasteful and inefficient processes in an effort to find opportunities for improvement. It is no wonder then that it has been increasingly embraced by business sectors outside of manufacturing.
Defining DMAIC
DMAIC is a Six Sigma project methodology that was inspired by W. Edwards Deming's Plan-Do-Check-Act continuous improvement cycle. DMAIC is used to improve existing business processes. It is pronounced "duh-may-ick" and stands for:
Define - The business problem is described in as much detail as possible
Measure - Metrics that can be used to compare the final state to the pre-improvement state are identified
Analyze – Data is analyzed and the root cause(s) of the business problem are identified
Improve - After the previous steps are accomplished is it time to identify, implement, and test a solution
Control - The control step ensures that the improvements can be continued over time
While Six Sigma is usually used in manufacturing and doesn't translate exactly to other sectors, DMAIC is rather universal and can be used to improve multiple types of processes in virtually any industry with a need to eliminate waste and inefficient processes.
Example Target Processes
DMAIC can be applied to any process for which you can build a business case for the effort. This means that you can create a compelling problem statement as well as a defined goal statement. You should also be able to constrain the project scope and be clear about the cost of continued poor quality. Some common processes that fit this well are:
Customer support – First contact to resolution
Sales - Quote to order
Health care – Patient encounter to payment
Software Development – Requirements specifications to general availability
Marketing – Campaign or website development to ROI analysis
Accounts Payable – PO to payment
Human Resources – Job requisition to onboarding
Benefits of DMAIC
Most companies realize they have problems or inefficiencies within processes, but don't have a defined process for addressing them. DMAIC can be applied to these and many other complex processes in any type of organization to bring structure to problem solving. The data-driven approach helps ensure that the correct root causes are identified and that the implemented improvements actually outperform the old method. It is especially beneficial when applied to complex problems that may cross job functions or departments.
While it got its start in manufacturing, the techniques used in DMAIC have proven to be successful when thoughtfully applied to any number of projects in a variety of industries. It should be considered a go-to approach for any type of company looking to achieve continuous improvement.
To learn more about how continuous improvement software might help take your origination's improvement efforts to the next level, download our free eBook: