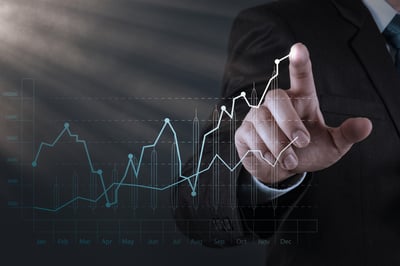 One of the most critical responsibilities of leadership teams in organizations of all types and sizes is to set the strategic direction and develop an executable plan to achieve the most important key performance indicators. Unfortunately, until recently, the data used to drive strategy execution was limited to lagging indicators like financial performance and customer satisfaction ratings.
Today, a new option that allows management with leading indicators of success is available. Rather than a rearview mirror, strategy execution software provides management teams with a dashboard to help them drive toward the results they need to achieve.


What is Strategy Execution Software?
According to the leading technology research and advisory company, Gartner, strategy execution platforms have some or all of the following capabilities:
Managing the outcomes to process impacts.

Visualizing the organization's mission, goals, objectives, strategies, or other contextual insight relative to metrics, plans, people, assets, and projects.

Prioritizing any continuing, upcoming, and ongoing investments related to strategies, risk management, and metrics.

Continuous planning and project management and prioritization based on resources.

Capturing actual metrics or strategic execution achievement based on continuing investments.

Providing constant monitoring of the state of projects and their resources relative to targeted strategies and metrics.

Formalizing a scenario planning approach for reassessing strategic plans when necessary.

Providing the ability to reprioritize ongoing projects in light of plans and investments relative to strategies and goals.
In short, strategy execution software supports the continuous effort of aligning priorities and resources to move the organization toward its strategic purpose while monitoring all of the projects and activities that will get you there.
What Problems Does Strategy Execution Software Solve?
Regardless of the effort and thought that goes into strategic planning in most organizations, research shows a significant gap between the strategic ambitions of leaders and what organizations can achieve. Three common problems contribute to this gap.


Lack of Organizational Alignment and Clarity
The employees of most organizations are unclear about strategy, accountability, roles, and responsibilities. As a result, there is a disconnect between the work of formulating a strategy and that of executing it. Research that Robert S. Kaplan and David P. Norton shared in the Harvard Business Review reveals that, on average, 95% of a company's employees don't understand or are completely unaware of its strategy. If the people closest to the customers and processes that create value don't know the strategy, they certainly can't help the organization execute it effectively.
Strategy execution software addresses this serious problem by cascading goals and objectives down to every employee in the organization, thus keeping the strategy as the guiding light for improvement and accountability.


No Formal Structure to Act Toward Strategic Objectives
In many organizations, following the annual planning process, the strategy becomes just another long-forgotten email attachment. Everyone agrees that the goals must be achieved, but there is no way of breaking them down into doable initiatives.
Strategy deployment software gives management teams a real-time dashboard and reporting structure to manage strategy execution daily. As a result, problems get solved before they risk the timely achievement of breakthrough objectives, and leaders always know if they are on track to meet forecasted milestones.


Little Insight into Impact
Even if management teams know that activities that will further the strategy are being executed, rarely is there an effective way to determine whether these activities will be enough to reach breakthrough goals. Thus, forecasting is complex, and it is hard to know what investments will have the most significant impact.
With a strategy execution platform in place, on the other hand, the impact of improvement projects can be calculated and tracked over time. With better visibility, leaders are more equipped to step on the gas when something is working and pump the breaks when it is not.
Key Features of Strategy Execution Software
Every strategy platform you consider will be designed in its own way, but some core capabilities are essential for success.


Structured Planning
Developing an effective strategy requires a structured approach to planning. Therefore, strategy software should provide a visual representation of all aspects of the strategy and how they relate. One popular tool is the X-matrix, which uses four quadrants to map the breakthrough objectives, annual goals, improvement priorities, and metrics to measure.
Strategic Performance Dashboard
All management teams have the technology for understanding the organization's financial performance and generally use it effectively. However, a bigger challenge is understanding the performance of the organization concerning the strategic goals and objectives. The strategy execution software you select should make this easy by providing a dashboard with hard data about employee engagement and the impact of improvement projects at all levels of the organization.


Structured Organizational Alignment
One of the primary principles of strategy execution is aligning the entire organization around the short and long-term goals. Achieving alignment requires clear communication and a consistent mechanism for ensuring that each activity relates to a specific target. The solution should make it easy to identify objectives and communicate them across all locations, departments, and teams. Users should be able to create customized lists of strategic initiatives and priorities. It should be apparent which goal every opportunity for improvement will impact.


Knowledge Repository
Among every organization's most valuable assets is the collective knowledge that comes from trial and error. That wisdom is depleted when people leave the company or change roles if not captured in your execution system. Consider solutions that capture learnings from every project so that the successful ones can be replicated and any failures become a source of learning.


Well-Defined Prioritization
We mentioned that strategy software is like a dashboard. It allows you to adjust to current conditions and obstacles yet still get where you are headed. Software should simplify the process of communicating priorities and make it easy for the front-line team members to know where leaders want them to place the most time and effort.


There is no shortcut to strategy deployment, but leveraging a platform designed to support it will help you save time, mitigate risk, prioritize projects, and ultimately achieve business goals with measurable impact. The return on this investment will very likely be substantial.