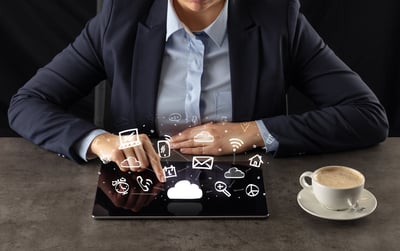 These days, there's an app for just about everything, and process improvement is no exception. Organizations that want to provide support for improvement, measure the impact, and foster a culture that embraces positive change are increasingly turning to technology for an assist.
Here's how an improvement management platform works to help organizations build and sustain momentum around continuous progress toward perfection.
Capture Opportunities for Improvement
The first set of critical process improvement software features are all about making it easy for anyone who notices an opportunity to report it. The software should include:
Simple improvement submission - A variety of methods for submitting an opportunity for improvement, including a cloud-based application, mobile applications, and submission via email. This is important for engaging the entire organization no matter what their job is.
Attachment storage - The goal is for the improvement platform to become the single source of truth for CI work. Users should be able to attach documents, images, other files, and links to any opportunity.
User-friendly interface - The solution should require minimal training and have role-based configuration capabilities. Presenting just the information needed by the individual simplifies work and spurs engagement.
Incident capture - Managing your incident reporting and the subsequent improvements in the same platform ensures that steps are taken to prevent reoccurrences of every incident.
Organizational alignment - Improvement work should be done with respect to the strategic plan and the organization's most important goals. Process management software allows you to cascade goals from the top down to each individual contributor.


Implement Improvements
Once you've identified opportunities for improvement, technology helps you get things done. Here's how:
Project management - Keep track of who is assigned to each task and manage due dates with active notifications and alerts. Assign scores or vote on improvements to make sure the most important ones get tackled first. Denote the relationships between projects, improvements, tasks, and charts to keep your system well-organized and easy-to-use.
Visual management - Customizable charts, graphs, and matrix views make it easy to communicate information quickly and help leaders easily identify bottlenecks in the flow of work.
Collaboration - Keep all improvement conversations and documentation in one spot for an informed discussion that breaks down cross-functional silos. Allow employees to stay informed about the topics and initiatives that matter to you by opting into notifications.


Measure the Impact of Process Improvement
Measurement is a crucial part of the equation because it provides data to help make decisions and also lets you prove the impact of improvement activities. The software you select should support:
Reporting

-

Track the activity, engagement, and impact of the entire organization. Look for a solution that supports measuring and reporting both qualitative and quantitative effects organization-wide.
Charts and data - Process improvement is often driven by charts and data. Choose a solution that supports a wide variety, including control charts, KPI tracking, run charts, bowling charts, and goal charts.
Culture measurements - Evaluate the health of your improvement culture by looking at the depth and breadth of engagement in improvement in your organization.



Share Institutional Knowledge and Spread Improvement
Each time your organization implements an improvement, it gets smarter even if the expected results are not achieved. Process management software is designed to make sure that everyone benefits from those lessons learned.
Online knowledge

base -

Create a searchable improvement database that's accessible to anyone, from anywhere at any time. Look for a solution that allows for basic, relevancy, and Boolean searches.
Lists - Users can create custom lists or subscribe to public lists to organize tasks and projects.
Process improvement software is a powerful tool for amping up the rate of positive change in your organization. Selecting one with each of these capabilities will put you squarely on the path to success.