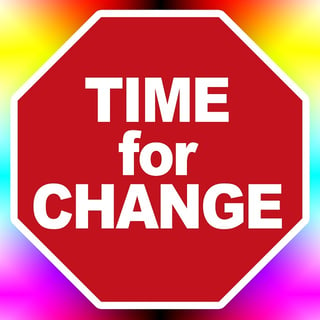 I first got introduced to the thoughts and teachings of Professor Gary Hamel back in 1997 or so, before I headed off to MIT for grad school. Hamel taught corporate strategy, his specialty, at Harvard, but I didn't hold that against him.
This article that he wrote for McKinsey, co-authored with Michele Zanini, caught my attention recently: "Build a Change Platform, Not a Change Program" and there's lots of great stuff there.
First is their list of three common problems with change management programs:
Assuming change starts at the top and that "executives have the sole right to initiate deep change and are best placed to judge when it is necessary."

"Change is rolled out" in a top-down way (that executive knows best bias again)

"Change is engineered" like the construction of a building (instead of embracing the fact that it's often chaotic)
There are other great gems, such as:
"When change is imposed from above, with both ends and means prescribed, it's rarely embraced."

Despite assertions to the contrary, people aren't against change — they are against royal edicts.
People aren't against change - they are against royal edicts.
Hamel and Zanini then "re-imagine" the mental models and mindsets for change that should work better.
Going from "top down" to "activist out." Our KaiNexus customers have "process improvement activists" at all levels who have great ideas for change. Honor Health, a recent addition to the KaiNexus family, achieves this activist-based structure with hundreds of Improvement Teams, each with their own Continuous Improvement Leader.
"From sold to invited." Our customers do what Hamel and Zanini suggest by having everyone in the organization figure out how things should change. Employees can be invited to participate in a variety of ways in order to help achieve the organization's strategic goals; for example, over at BSA LifeStructures, teams often focus on optimizing processes and then using KaiNexus to share those around the geographically dispersed organization.
"From managed to organic." Our customers have "self-defined communities [that] generate and implement thousands of change initiatives each year." Four Seasons Produce is a great example of an organization excelling at engaging staff in organic improvements in their warehouse and packing departments, as people are encouraged to come forward with ideas for improvement as they come up.
I love what the authors call for in terms of a "change platform." I think KaiNexus' continuous improvement software totally fits their description of what a change platform should be.
We "take advantage of social technologies that make large-scale collaboration easy and effective." We help our customers do all of these things:
"encourage

individuals

to tackle

significant organizational challenges

; that is, those that are typically considered beyond an employee's "pay grade" or sphere of influence

foster honest and forthright discussion of root causes and, in the process, develop a shared view of the thorniest barriers

elicit dozens (if not hundreds) of

potential solutions

rather than seeking to coalesce prematurely around a single approach; the goal is first to diverge, then to converge

focus on generating

a portfolio of experiments that can be conducted locally

to help prove or disprove the components of a more general solution, as opposed to developing a single grand design

encourage individuals to

take personal responsibility for initiating the change they want to see and give them the resources and tools necessary to spur their thinking and imaginations." Ron Smith over at our customer Mary Greeley Medical Center takes a strong stance on this one, encouraging people to take responsibility for implementing their ideas. He supports this expectation with praise, coaching, and resources that empower employees to improve their own work.
There's a great post on our blog from Jake Snyder at BSA LifeStructures about how KaiNexus solves the logistical challenges of large-scale collaboration. Check it out here.
I agree with Hamel and Zanini that the biggest challenges involve leadership, not technology. I also agree with them that leaders are responsible for "creation of an environment where deep, proactive change can happen anywhere—and at any time—and inspiring the entire organization to swarm the most pressing issues."
Instead of dictating what to do, effective executives set a tone and a direction, and they create an environment that allows everybody to participate in and lead change. A great example of setting that tone is the way Kettering Health Network has "guidelines for leaders," as discussed by Jason Coons in this webinar.
What are your key takeaways from the article? Please leave a comment and let us know what you think.