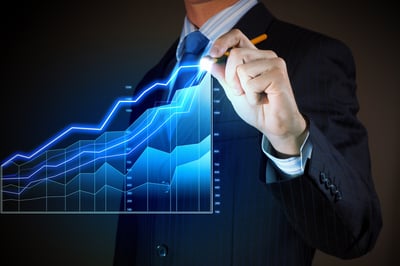 The Lean management methodology is popular across almost every industry. We have customers in sectors from healthcare to construction that rely on Lean principles to manage improvement and change. Some use a bunch of Lean tools and bake that way of thinking into every part of the business, while others take a more casual approach. In any case, Lean software can be used to support employees in their quest for reduced waste and better value for customers. Here are a few of the most important benefits.


1. Everyone Has Access to the Same Information
Lean management software creates a record of all improvement projects that is available in one unified platform with role-based access for managers and employees. Rather than trying to manage improvement in general email inboxes and spreadsheets, everyone has just one place to go to suggest an opportunity for improvement or work on an existing project. All related documents, images, and other assets are stored along with the data about each project.


2. People Can Engage Anytime, from Anywhere
Improvement activities shouldn't be limited to the desktop or factory floor. By choosing Lean management software that is online, you eliminate obstacles that keep people from entering their ideas or engaging with projects. Everyone can access the system from wherever they are on whatever device they prefer. You can even make your huddle board digital, so it possible for people to be effective in meetings even if they aren't in the building. This is especially important in today's era of remote work.
3. A Common Language Emerges
In organizations, a common language helps to bring people together. A Lean culture evolves when people can talk about improvement with the same vocabulary. Lean software helps to establish the terms that your team will use to talk about change and reinforces that lexicon each time they log in.


4. People Take Improvement More Seriously
Employees know that budgets are value statements. If leadership is willing to fund support for Lean initiatives, people understand that it is a priority. If Lean is going to be transformative for the organization, commitment and investment are necessary. By introducing technology to support positive change, you signal to the organization that Lean isn't the fad of the week.


5. Improvement Happens Faster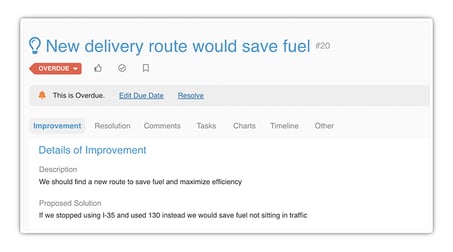 One of the reasons that spreadsheets so often fail for Lean management is that they are passive. Files only get accessed and used when someone thinks to do it. With Lean software in place, people get alerts and notifications to keep them informed and engaged in improvement work. If a due date is missed, everyone knows about it, and managers can jump in and provide coaching or remove obstacles.


6. Tribal Knowledge Grows
A Lean management platform becomes the storehouse of all lessons learned across the entire organization. Each project and relevant documents are assembled in one place that anyone can study. An improvement project that is started today benefits from the foundation of the collective wisdom of the organization. People know what has worked well in prior efforts and what mistakes can be avoided.


7. Leaders Get Important Insight
Lean management is usually a crucial element of an organization's plan for reaching strategic goals and eliminating waste. Leaders are much more effective if they have data about the health of Lean across the organization as a whole. The best Lean software includes a dashboard that leaders can use to drive the organization toward its breakthrough goals. They know which individuals, departments, locations, and managers are engaged in improvement work, and they have a view into all of the improvement actives underway.


8. Aligned Goals
Strategy deployment, sometimes called Hoshin Kanri, is an integral part of the Lean methodology. It means that all personal and group goals align with the organization's overall strategic goals and objectives. Lean software helps leaders cascade goals down from the board room to the front-line employees. Improvement work is related to the strategy and setting priorities becomes much easier.
9. You Can Calculate the ROI of Lean
Perhaps the most significant benefit of Lean technology is that you can calculate the impact of each improvement. Whether you are looking for cost savings, improved customer satisfaction, revenue growth, or any other KPI, the Lean solution you choose should make it easy to analyze and track the short and long-term results of each project.


These days, any important function has software to support it. Lean is no different. Our customers have consistently found that it is well worth the investment and effort.