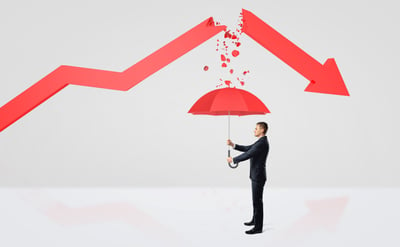 Is the US heading into a recession? This question has been coming up more often over the last few months as economic indicators have economists, investors, and politicians concerned. In fact, the manufacturing sector is technically already in a recession, when defined as two quarters in a row of negative growth. Whether or not the larger economy will begin to slow, nobody can say for sure, but it's not unreasonable to be concerned.
One of the things that companies do during a recession or when they think one is coming is cut costs. This makes sense because the only ways to protect profitability are to increase revenue or reduce expenses. Increasing revenue is more challenging during a recession, so cost-cutting seems like a sound idea.
Planned technology investments are often the first thing on the chopping block. After all, the easiest way to cut costs is to stop buying stuff. The rest of this post will be dedicated to laying out the financial reasons that improvement management technology should be the exception. In fact, the data is persuasive enough that it makes sense to invest in an improvement platform even if one was never in the budget.
The Profit Killing Costs of Poor Quality
In a study called The Future of Manufacturing: 2020 and Beyond, Industry Week surveyed 153 senior executives and managers. When asked about the importance of technology advancements to future business performance, the respondents rated quality management systems and lean manufacturing systems as the top two most important.
Why did quality management software top the list?
It's simple. Quality management is the key to profitability. According to the American Society for Quality, many organizations have true quality-related costs as high as 15-20% of sales revenue, with some going as high as 40% of total operations.
In tough times, the cost of poor quality is just too high to absorb.
People often focus on the external costs of poor quality such as customer complaints, repairing goods or redoing services, warranty claims, public relations hits, and lower sales. But don't forget about the internal costs of rework, delays, shortages, downtime, and failure analysis.
Investing in quality management software gives leaders a way to identify and correct the root causes of defects, many of which are below the surface and hard to find. If you reduce costs associated with poor quality from 15% to 10% and everything else remains the same, you have significantly increased your profit.
When increasing revenue is difficult or impossible due to economic conditions, reducing costs is the path to survival.


The Terrible Price of Employee Turnover
In February 2019 alone, 2.86 million Americans quit their jobs, according to the Bureau of Labor Statistics (BLS).
According to Employee Benefit News, employers spend around 33% of a worker's annual salary during the replacement process. To put that in perspective, it will cost $20,000 to replace a manager making $60,000 a year. Not every new hire will demand the same process, but even an $8/hour employee can end up costing about $3,500 in direct turnover costs.
Of course, those are just the costs of replacing the worker. Turnover comes with less obvious costs as well. In an article on employee retention, Josh Bersin of Bersin by Deloitte listed additional impacts that should be included when calculating the "real" cost of losing an employee. These factors include:
Cost of onboarding a new person, including training and management time.
Lost productivity. Bersin notes that it may take a new employee one to two years to reach the productivity of an existing person.
Lost engagement. Other employees who see high turnover tend to disengage and lose productivity.
Customer service problems and errors. For example, new employees take longer to solve problems.
Training cost. On average, a business invests 10 to 20 percent of an employee's salary on training over two to three years.
Cultural impact. Whenever someone leaves, others wonder why.
People quit their jobs for a ton of reasons, of course, but research consistently places culture issues ahead even of salary. People leave when they don't feel recognized, when they aren't challenged, and when they can't be authentic at work. (This is a great rundown of reasons to quit by Business Insider.)
People may be more reluctant to quit during a recession, but minimizing the economic harm caused by those that do must be a high priority during difficult times.
Improvement technology helps reduce turnover by supporting a culture that values each person's contribution to success. When people feel empowered to provide input and solve problems in their operational area or cross-functionally, they become emotionally invested in the organization and are more likely to stay. This is even more true when organizations leverage improvement broadcasting to recognize employees that contribute to positive change.


Employee Disengagement – The Great Productivity Destroyer
We've talked about what happens when employees leave organizations that don't invest in an improvement culture, but what happens when they stay?
Achiever's reports that only 21% of employees are highly engaged at work. The rest of the workers are there, but not all in. What does that cost? According to Gallup, disengaged employees have 37% higher absenteeism, 18% lower productivity, and 15% lower profitability. When you put that into dollars, you're wasting 34% of a disengaged employee's annual salary, or $3,400 for every $10,000 they make.
A recession and the accompanying stress outside of work isn't likely to make these statistics improve.
What causes employees to become disengaged? That same Achiever's study offered a clue. Only 9% of the people surveyed say the leadership in their organizations are very committed to culture initiatives, and 58% of respondents say that their leadership either takes no action regarding culture or are merely reactive instead of being proactive.
If an organization's leadership is complacent about creating a great place to work, then how can they expect that their employees will be fully invested in their day-to-day responsibilities?
How does improvement management software help generate more employee engagement?
It signals management's commitment to giving employees the opportunity to do their best work.
It creates a sense of community and trust.
It empowers people to solve the problems that drive them nuts.
Opportunities too Valuable to Ignore
In addition to improving quality and keeping engaged employees from leaving, improvement management software opens up a world of possibilities for reducing costs and outperforming the competition - recession or not.
Employees on the front line are exactly the eyes and ears you need to find opportunities to reduce waste, improve productivity, and deliver more value to customers. Improvement management software makes it possible to implement these ideas and calculate their value. The ROI for improvement software isn't a mystery; our customers recognize it every day. For example:
Each KaiNexus user has a financial impact of $6,000 per year for their organization.
1.4% of opportunities for improvement have an impact greater than $100,000.
When it comes to improvement, even small ideas can pay off big time. A new process that saves 12 minutes a day becomes an hour a week - or 52 hours a year. Repeat that five times, and you've saved 250 person hours a year.


The Bottom Line
While we all hope that economic conditions will improve, the signs indicate that organizations should prepare for some slowing. The best way to do that is to put the infrastructure in place that will let you make the most out of every dollar and person. While spending on technology at this time might be counterintuitive, the math says it's the right move.
(Good news, although recessions aren't cool, they're not usually as bad as the one before. Prior to the recession that started in late 2007, the previous one was in 2001. It lasted for only eight months and was so mild that most people weren't even aware of it until it was over.)