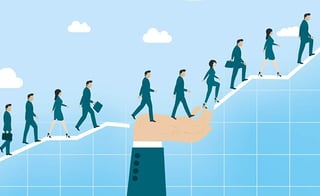 The Lean paradigm is not just a set of tools and techniques for structured improvement. It is also a state of mind that brings increasing returns as more people "get" it. It is a shared way of looking at work and understanding the value of improvement. Strong leadership is necessary to build a culture around Lean and spread the way of thinking across the organization. While every leader is different and will bring their own unique talents to the task, there are some Lean leadership essentials that successful leaders share.
The Ability to Communicate the Vision
If you tell managers to do Gemba walks or instruct each department to develop a Huddle Board, they'll probably do it. People tend to do what they are told. If you want them to care about the results of these efforts, they need to understand more than that you are doing Lean. They need to understand why. They also need to know that this is a high priority for you and how they fit into the big picture. Focus on the benefits Lean will bring to front-line employees, such as more enjoyable and frictionless work, better financial performance which leads to more investment, and happier customers.


Willingness to be a Servant Leader
You don't want to micromanage every improvement nor do you want to just tell your employees to be Lean and hope for the best. Servant leaders balance autonomy and guidance by positioning themselves as a resource for positive change. This takes the form of removing obstacles, minimizing bureaucracy, and making investments.
Tolerance for Risk
One of the reasons that people tend to avoid change is the fear of failure. If teams continue to do what they have always done, they can reliably predict the outcome. If they change, something unexpected might happen. Effective Lean leaders realize that not every improvement will yield positive results and that some changes will need to be undone. They encourage their employees to "fail forward" and realize that very few improvements will have devastating business consequences if they don't work out.


Focus on Processes, Not People
Presumably, you've hired smart, capable people and they have been effectively trained. In that case, errors and waste are the result of flawed processes, not flawed people. When people realize that reports of problems or product defects will result in the evaluation of the process, not themselves, they are more likely to report issues and participate in corrective and preventative actions.
Henry Ford once said, "Don't find fault. Find a remedy." That's what Lean leaders empower every employee in the organization to do. The best ones create an environment in which each individual can thrive and contribute to the success of the entire team. These four qualities form the foundation that makes it possible.