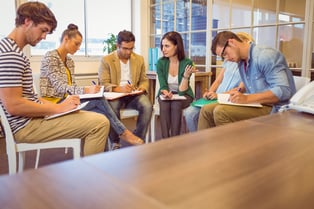 Imagine going on a family road trip but not bringing your family. Do some people stay behind so they can experience the trip through the photos you send them? I'm willing to bet that more often than not, you bring the whole family. After all, it's a lot more fun for you - and for them - to share in the joy together!
The same concept applies to continuous improvement and why everyone needs to be a part of the improvement system.
When you're on the hunt for a platform that can facilitate your improvement culture, it can be tempting to limit the rollout to a handful of improvement experts and managers rather than engaging the masses. Whether you're making this choice to save money, to keep things simple, or because you don't think everyone will engage anyway, it's a mistake to leave people behind.
Here are a few reasons why you don't want to go down that route:


1. Employees feel valued when you hear their ideas.
When you exclude people from your improvement system, you're telling them that their opinions and ideas do not matter. Deciding not to add them to your organization's system leaves them out of something that makes your business - and their jobs - better. Who will hear their voices? How will they handle being left out of the improvement culture and processes? How likely are they to adopt improvements when they weren't included in creating them?
2. Visibility into everyone's improvement work can enhance coaching.
All employees are a part of your improvement culture, whether they log in to your improvement platform or not. They observe opportunities for improvement; they express a desire for change; and they perform the tasks that your team is trying to improve. In the short term, it might be easier to count them out, but by doing so, you're missing out on the human potential and resources that make your organization so impactful in the first place.
To sustain a thriving improvement culture, you need to maximize the human potential in your organization. You hired your employees because they're intelligent and skilled—you should use those traits to your advantage by engaging your people in improving the work they do. Giving your employees direct access to your improvement platform ensures that you have the visibility to coach them effectively. It provides easy reporting that you can't get when you engage them in improvement manually. At the end of the day, it makes your end-of-year performance evaluations easier and simplifies your reporting on improvement KPIs.


3. Notifications give peace of mind.
It's tempting to have someone else log improvement project work in your improvement platform on behalf of your teams without actually adding the teams themselves and giving them access. However, by doing so, you're robbing them of one of the most critical pieces of CI technology: notifications.
Your staff is busy, and improvement likely isn't their primary function. Notifications ensure that your people keep up with critical information and deadlines without placing the burden on you to remind them and follow up with their leaders continually.
Even if an employee does not log into your improvement platform every day, you still have peace of mind that they have instant access to all the improvement work within their team and other departments through notifications. You never wonder if someone is falling behind or entirely out of touch. Notifications also serve to give each improvement a broader impact, as the best ones are shared throughout the organization and can thus be adopted by other work areas.


4. Giving everyone an equal opportunity to submit ideas drives improvement culture.
Improvement work is not confined to your desktop. Employees that are out on a factory floor still have the opportunity to participate in improvement work. Besides a traditional desktop computer, make sure your improvement system is accessible via mobile, kiosk, and email, if at all possible.
By giving each person access to the system themselves, you're able to keep track of who submitted what ideas, and you can keep your people in the loop about their submissions' progress. This increased visibility builds trust in leadership and the improvement culture as a whole. Your people will see firsthand that their ideas are valued and addressed rather than dropped in the lap of a too busy manager to follow up on them all.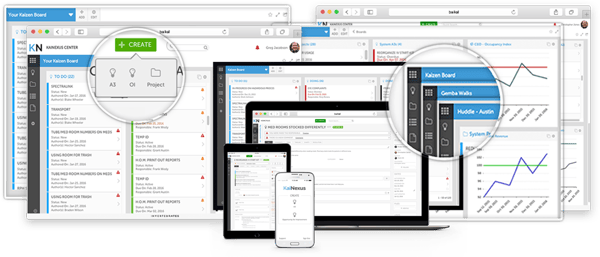 5. 80% of your organizations improvement potential is in the frontline employees.
According to The Idea Driven Organization, 80% of your organization's improvement potential is frontline employees. After all, this makes sense because they're doing the work, so it only makes sense that they will have the best ideas for improving the work! While many of their ideas will have soft benefits like saving time or increasing employee satisfaction, a substantial percentage of ideas will directly impact your bottom line. Since you never know which ideas those will be or from whom they'll originate, it is imperative that you get everyone involved in improvement.
Play around with this ROI Calculator to see the impact of engaging more vs. fewer people in improvement. These calculations have been calculated based on the impact of over 250,000 improvements entered into the KaiNexus improvement platform.
Can you see what a difference widespread engagement makes? Who knows, the employee or the group of people you chose not to include in the system could be sitting on the next great idea that could save your organization tons of money, but you'd be missing out on it.
The primary purpose of bringing an improvement system to your organization is to build and spread your continuous improvement culture. Engaging people in your improvement platform allows them to voice their ideas and know that they are valued by leadership.
You have a thriving improvement culture when there is a set of shared values, goals, attitudes, and practices within the entire organization. You can't have a successful and impactful improvement culture by just including a portion of your organization.