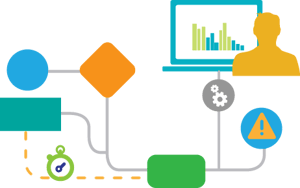 Google defines irony as, "A state of affairs or an event that seems deliberately contrary to what one expects and is often amusing as a result." We differ with this a little in that some ironic situations are not amusing at all. Sometimes they are sad or even painful.
Case in point – many organizations that are focused on continuous improvement and Lean, Six Sigma, TQM, or one of the other popular business methodologies, believe in the idea of Standard work. They have a well-defined, accessible, and up to date standard for every business process and task. But (here's the ironic part) they have no standard for the process of improvement itself. Sure, there may be a vague idea about how improvement projects should be managed, but there's nothing in place to enforce consistent approvals, execution, and reporting.
One way to address this incongruity is the use of improvement workflow software. It provides a structure for improvement work and ensures that the process is repeatable, measurable, and documented. Here are a few key benefits:

Consistency
Every organization is different, so you want to look for a solution that will let you set up improvement workflows that make sense for yours. You decide what approvals will be required and which milestones are important to track. This approach ensures that every improvement goes through the same checkpoints along the way, and no balls get dropped.
Accountability
Structured improvement work helps empower employees by clarifying what is expected during every step of the process. It also makes it easy for managers and leaders to recognize employees who are helping propel the organization toward its goals.
Collaboration
Improvement workflow software helps cross-functional teams by posting comments, tracking key metrics, and completing tasks. No matter how large or small your team or project is, the right solutions keep everyone in the loop.
Speed
Active alerts and notifications help keep everyone on track and make sure that nothing falls through the cracks. The best solutions include the ability to link employee inboxes and with improvement by replying to comments via email and links that take users straight to the improvement they are working on.
Accuracy
In order to get the most accurate reporting, it is useful to find a solution that makes it easy for finance teams to validate the monetary impact of improvements while they are still in progress. It should be easy to report on the results of every improvement project and broadcast the positive results.
Implementing improvement workflow software sends a signal to your team that leadership is dedicated to continuous improvement and willing to make the necessary investments to support it. It can go a long way toward expediting your organization's efforts to meet its goals and speed the pace of positive change.
Learn more about how KaiNexus handles improvement workflows here!
Download this free eBook to learn about being a better leader of your improvement culture: