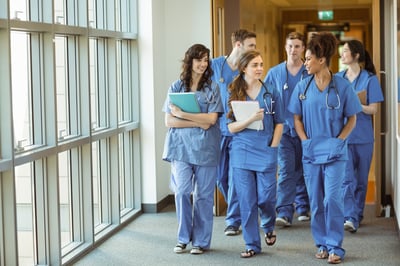 Across the world, healthcare leaders are increasingly striving to embed the principles of operational excellence and continuous improvement in their organizations. Empowering clinical and operational staff to deliver safe, high-quality, reliable care can significantly change results.

Achieving continuous improvement requires a systematic, sustainable approach to enhancing the quality of care and patients' health outcomes. Establishing a culture of constant improvement is not a quick fix but a journey that never ends. It requires ongoing commitment, investment, and persistence.

Here is the prerequisite for excellence.


An End-to-End Management System
Continuous improvement calls for a new management system, replacing the traditional project-based thinking with behaviors, tools, and techniques that help managers support frontline workers as they begin identifying and solving problems. This system is the motor for sustainable improvement. It helps to align improvement efforts with the organization's strategic goals, also know as its 'True North'.

The changes required in culture and behaviors don't come naturally. Using and spreading problem-solving techniques are skills that need to be developed and supported through coaching and mentoring. Managers must develop the discipline to sustain this effort over months and years. This new way of working is now part of the day-to-day job.


Commitment from Leaders
The senior leadership and board must understand the organization's approach to achieving better outcomes through continuous improvement. Their commitment must be readily apparent and demonstrated through role modeling expected behaviors, asking questions, viewing problems as opportunities, and removing obstacles. Involved executives appreciate what resources and support are required to foster a solutions-oriented culture.

To achieve success, healthcare leaders need to shift from a traditional command-and-control approach. This isn't easy, and it takes time. In addition to spending more time on the floor, leaders have benefited from visiting other high-performing organizations to see what operational excellence looks like in action.
A Willingness to Slow Down to Speed Up
Implementation of a continuous improvement paradigm must not be rushed. Changing culture takes time and patience to get it right, particularly in organizations that have seen other management initiatives come and go. Barriers to overcome include change fatigue, mistaken ideas about what continuous improvement means, and inadequate resources.

It is essential to plan and deliver training at an appropriate pace. Working steadily to facilitate change, review progress, and adjust as required may necessitate a multi-year journey.


A Common Vocabulary
When a new way of working is introduced, it can feel challenging, upsetting, or even threatening to staff. That's why it is essential to make a substantial effort to communicate with team members before implementing changes. Ideally, the most enthusiastic staff will become champions and influencers for change among their co-workers.

Be careful to avoid management-speak terms that create wrong ideas about cost-cutting and individual autonomy. These can lead to resistance. Instead, develop an understandable language for improvement that works for your origination. Staff are motivated by terms that highlight the benefits for patients.

The team should come together often to discuss solutions to common problems so that learning can be shared. Broadcasting success stories and early wins helps to create a sense that frontline staff are seeing positive change and to drive home the notion that this is a new way of functioning, not just a passing phase.


Fewer "Stickier" Priorities
Many healthcare organizations are overwhelmed by targets and outcomes. Without prioritization, staff will attempt to meet all of them. Then firefighting becomes the norm, and frustration and demoralization spread. Sustainable improvement requires focus. Successful organizations move towards a smaller set of priorities to hone in on to deliver 'breakthrough' change.

The ideal number varies depending on an organization's current state and resources. Leaders typically find it best to focus on three to four priorities and never more than 10. Each focus area should be aligned with strategic goals such as patient satisfaction, quality of care, staff satisfaction, and financial results. Leaders must communicate the goals to staff to achieve clarity and shared direction.
Improvement Technology
Continuous improvement software for healthcare can play a crucial role in supporting change. A unified platform brings people together and allows accurate information to be shared. It also makes it possible for leaders to gauge the health of the continuous improvement culture.

Improvement begins with a clear understanding of the current state, which involves making better use of data. Real-time reporting and analytics can speed up identifying the most significant challenges and help get to the root causes.


The focus and discipline required to achieve operational excellence in healthcare should be seen as enablers, not constraints. Channeling the passion of healthcare professionals into practical solutions that meet the challenge of modern healthcare will definitively raise quality and lower costs over the decades to come.