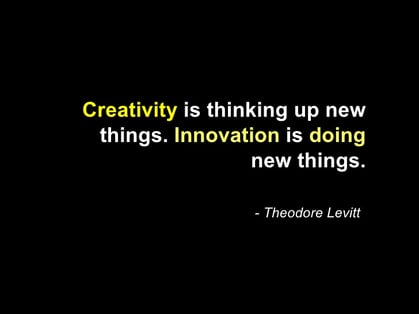 As organizations seek to bring more structure to efforts to improve both products and processes, many are turning to innovation management software. While it may seem like innovation management is something that belongs only in the technology sector, the approach has wide appeal and a number of potential benefits.
Definition
TechTarget describes innovation management software this way, "Innovation management software enables the digital management of enterprise innovation, starting from the generation of ideas developed by internal and external sources through multiple stages of evaluation to the selection of top ideas destined for implementation. As such, this class of software offers content and collaboration functionalities as well as basic idea management capabilities. Innovation management software also includes idea submission, idea evaluation, workflow, campaign management, rewards and recognition, analytics and visualization, brainstorming tools and project management capabilities."

Application
Innovation management software is used by companies of all sizes and types. It can be used to improve products such as those produced by technology companies or manufacturers. It can also be used to improve processes, which is why it is popular in healthcare, logistics, education, and hospitality. Keep in mind that innovation software is useful for managing both daily, incremental improvement, and more disruptive, revolutionary change.


Features
As TechTarget pointed out, innovation management software supports improvement work from the moment an idea is articulated until the improvement is implemented and measured. Key features include:
Capture: Innovation management software serves as a repository of opportunities for improvement. The best solutions allow employees to enter ideas from any device, anywhere, at any time.
Implement: Innovation technology should speed the pace of improvement by keeping everyone engaged in projects and up to speed on progress. Notifications and alerts help ensure that nothing falls through the cracks.
Visualize: Many popular improvement techniques involves boards, charts, diagrams and other ways of visualizing improvement work. This is because humans process visual information much more quickly than text. Innovation software includes visualized data for instant comprehension and analysis.
Collaborate: Often breakthrough innovation requires working across organizational boundaries such as departments, functional areas, or locations. Innovation technology makes this easier by streamlining communication, providing access to important documents, and providing structured goal alignment.
Measure: Innovation management software gives you insight into your improvement culture with engagement, activity and impact reports. Leaders can quickly assess the health of the organization's innovation efforts and recognize and reward those who are pushing the team toward its strategic goals.
Share: An often-overlooked advantage of innovation software is that it creates a living history of the organization's improvement efforts. Standard practices, successful projects, and lessons learned can all be shared so that each improvement effort builds on what has come before.

In his book 24/7 Innovation, Stephen Shapiro said, "A culture of innovation can be a company's primary source of competitive advantage, and can pay off steadily over the years." That's why it makes sense to consider moving from random acts of innovation to a structured, controlled, and consistent approach supported by technology designed to give you exactly that.