Generally, when you think of companies using continuous improvement, you mostly jump to manufacturing companies and healthcare organizations. Hearing about how other industries are able to bring in continuous improvement can provide new insights and ideas. Continuous improvement is breaking through in the mining industry, from South32, a mining company based out of Australia, to Kinross, a gold mining company in Nevada.
Lean.org recently interviewed Lean consultant Ernie Richardson and Kinross employees Vincente Ramirez and Deanna Hall about their company's continuous improvement journey. We'll summarize the highlights, but you can view the short interview it in it's entirety here.
Just like any company, Kinross had a business problem that they were trying to solve; because they're a commodity business, they can't control the price of their product. The only part of the equation that they can control is their cost and expenses. Using continuous improvement can help to reduce those costs and streamline efficiency, helping to keep the company profitable even when the price of gold falls.
Kinross knew that they needed to improve, but didn't have a structure for actually making improvements. Kinross believed that their overall success and failure depended on their ability to spread continuous improvement.
The company started their improvement journey in 2009, but it really took off after partnering with Ernie, developing their employees, and stressing to them how important continuous improvement really is. Kinross started continuous improvement with a small group, celebrated their successes and shared it with the rest of the company. From there, continuous improvement has spread quickly. In just the last year, Kinross has 900 employees and has generated over 500 ideas!
Everyone starts their continuous improvement journey somewhere, but it is always important to try and improve the process along the way. That's where continuous improvement software steps in. Deanna Hall stated that Kinross uses continuous improvement boards that they adapted from Caterpillar.
Physical boards like that are a great way to engage employees in continuous improvement, but electronic ones are even better. Electronic boards can be displayed in the same spaces as the physical ones so that people converse face-to-face and it's easy to visualize improvements, but they have the added benefits of:

Being accessible from anywhere

Using smart notifications to maintain engagement

Creating a permanent knowledge repository of current and past improvements

Facilitating cross-functional collaboration

Being displayed in multiple locations at once, updating in real time

Tracking engagement, activity, and impact

Showing both improvements and charts
Learn more about the benefits of electronic improvement boards here.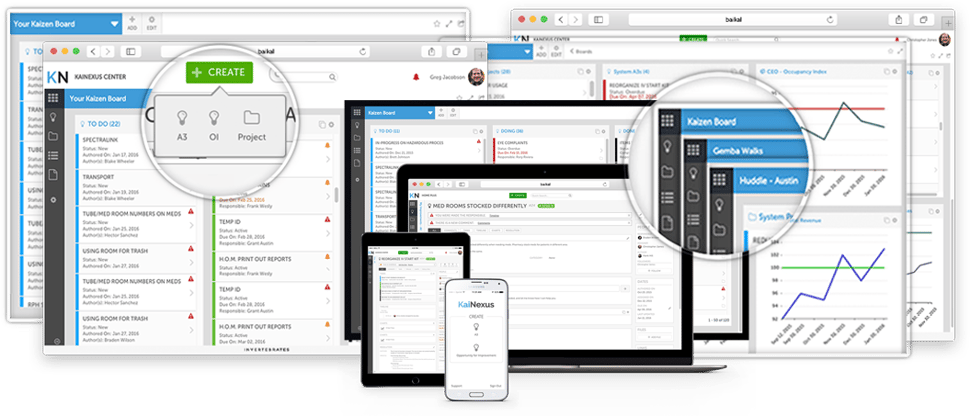 In mining companies, being able to log an improvement from anywhere is important. Just ask our customer South32, who has employees that log improvements from 500 feet underground! Continuous improvement software is one way to improve your continuous improvement journey.
For a mining company, it can allow you to really mine for ideas!