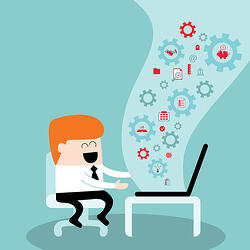 Although the concept is fairly new, businesses are increasingly turning to idea management software to capture, manage, measure and reward employee recommendations for positive change. The software is being used in conjunction with process improvement methodologies like Six Sigma and Lean, or as a stand-alone approach to achieving operational excellence.
The increasing popularity of idea management and idea management software is due to several compelling advantages.
The solution helps business leaders:
Cast a Wide Net
Great ideas for cutting costs, improving safety, making processes more efficient, and satisfying customers can come from every single employee in the organization. Without a solution designed to solicit them, good suggestions are often never expressed.
Promote Action
Does this sound familiar? Someone makes a wonderful suggestion. Everyone says, "That's a great idea!" And then nothing happens. How many opportunities for improvement have been lost by your business in this way? Idea management software is designed to prevent exactly this. It becomes a systematic way of assessing ideas and managing the process of carrying them out.
Measure Results
Once an idea is implemented, it is important to know if the results produced a positive ROI or enough intangible benefit to justify the effort. Idea management software supports this process and makes it easy to determine if the improvement should be leveraged in other ways.
Improve Employee Engagement
Inviting every employee to become part of your organization's improvement efforts helps them feel more connected to the success of the business. Engaged employees have a direct impact on improving bottom line business preformance and customer satisfaction.
Encourages Collaboration
Often good ideas can be turned into fantastic ones with input from others who have a different point of view or background. By making each opportunity for improvement broadly available, the process becomes cross-functional and collaborative.
Simplifies Employee Recognition
Employee recognition is a built in part of idea management software, making it easy for managers and executives to acknowledge and reward the efforts of employees who contribute to business performance improvement.
Implementing idea management software signals to the organization that leaders are serious about opening the lines of communication around how to make the business better. Most leaders who make the investment are delighted by the range and creativity of employee ideas. Many are surprised by the effort and energy their team will expend when empowered to identify, manage and resolve opportunities for improvement. It's a concept whose time has come and an advantage to those who embrace it before the competition.