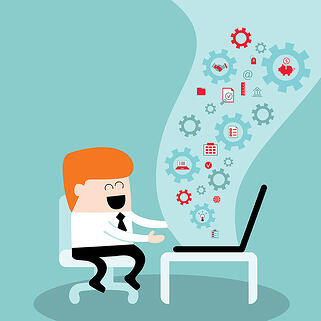 Businesses increasingly turn to idea management tools to capture, manage, measure, and reward employee recommendations for positive change. Organizations use idea management software as part of a collaboration initiative, sometimes along with business management systems like Six Sigma and Lean. Gathering employee ideas is the critical path to achieving operational excellence.

Modern workers want more than just a paycheck and benefits from their employers. When employees are surveyed, the reasons that they change jobs are more often related to how they perceive themselves as being valued by their employer and how well their current work is preparing them for their future career goals.

Solutions that invite every individual to work toward positive change help address the need to contribute to the organization's mission and attain recognition for excellent work. Employees who participate in innovation projects develop problem-solving and critical thinking skills to make them more effective in their current roles and prepare them for the next.


What is Idea Management Software?
An idea management system is a platform for collecting, assessing, and developing ideas for improvement. The solution promotes innovation by encouraging everyone to become part of the organization's quest for its strategic goals. Modern idea management solutions are web-based and available to employees from any location at any time.

It is important to note that idea management software built to support continuous improvement is not the same as simple idea ranking tools. Idea ranking is about finding the next big thing, not implementing incremental fixes proposed by the people doing the work. Organizations using "ideation software" implement only about 2% of the ideas they collect.

It is helpful to think of idea management software as having five core functions.
Five Core Functions of Idea Management Software
Capture Opportunities for Improvement
Great ideas for cutting costs, improving safety, making processes more efficient, and satisfying customers can come from every employee in the organization. However, without an idea management solution designed to gather ideas, good suggestions are often never expressed.

Inviting every employee to become part of your organization's improvement efforts helps them feel more connected to its success. In addition, increasing employee engagement will directly impact improving bottom-line business performance and customer satisfaction.

Often good ideas can be turned into fantastic ones with input from others who have a different point of view or background. By making each opportunity for improvement broadly available, the process becomes cross-functional and collaborative.


Implement Improvements
Does this sound familiar? Someone makes a wonderful suggestion. Everyone says, "That's a great idea!" And then nothing happens. How many opportunities for improvement have been lost by your business in this way? Idea management software is designed to prevent precisely this. It becomes a systematic way of assessing ideas in real-time and managing the process of carrying them out.

Idea management software provides a structure for managing improvement projects. Once an idea is submitted, the relieving supervisors and managers are automatically notified. They can then assess and categorize the idea. Often the Lean technique of Catchaball is used to develop ideas and determine if, when, and how they will be implemented.

Once an idea is selected for implementation, the project management elements of the solution kick into gear. Alerts and notifications are provided to ensure that work moves according to the set timeline. In addition, the technology supports improvement tools such as PDSA, A3 problem-solving, daily huddles, etc.


Measure the Impact of Improvement
Once an idea is implemented, it is essential to know if the results produced a positive ROI or intangible benefits to justify the effort. The best idea management software supports this process and makes it easy to determine if the improvement should be leveraged in other ways.

In many cases, the return is financial. Still, the return on an idea may also relate to less tangible goals such as improved customer satisfaction, employee retention, shorter cycle times, and higher quality products and services.

The best way to measure the impact of improvement is to visualize it. The top idea management solutions have dashboards that make it easy for leaders to understand the activity, engagement, and impact of employee ideas for positive change.


Share Improvement Knowledge
Idea management software becomes the repository for all of the collective wisdom your team develops around improvement. Everyone has one place to review past efforts, gain insight from other projects, and report their lessons learned. This approach supports a culture of innovation and engagement.

Employee recognition is a built-in part of idea management software, making it easy for managers and executives to acknowledge and reward employees who contribute to business performance improvement.


Align Ideas with Strategic Priorities
The critical strategic priorities and annual goals cascaded from the executive suite to every individual employee in the most successful organizations. Idea management software makes it easy to ensure that personal objectives and goals further the strategic mission. With a clear understanding of what needs to be achieved, employees can submit ideas to move the needle in the right direction.
Critical Idea Management Features
When evaluating an idea management platform, it is good to ask the following series of questions to lead to an excellent user experience for your employees.
Is the solution available any time, on any device? Inspiration can strike anytime, so make sure the system is web-based and compatible with the mobile devices employees love. Of course, security becomes a critical consideration anytime you choose an online system. Make sure you select a reputable vendor with the tools to keep your data protected.

Does the system support strategic alignment? It is wise to collect every idea for innovation, but the most successful organizations prioritize improvements aligned with the strategic goals and objectives. When employees understand how their work is tied to the overall mission, they can focus on improvements that make a big difference. One particular feature to look for is the X-matrix tool for strategy deployment.

Can leaders manage visually? Ideally, you'll get many ideas for improvements and have many projects going on at one time. That's why the system must have configurable dashboards so that leaders can quickly tell who is engaged, what is happening, and when they need to take action to remove obstacles.

Is it easy to search the idea database? The best idea solutions make it easy for people to explore the idea database to see what has already been submitted. Robust search capabilities simplify finding similar ideas, learning from past mistakes, and avoiding duplicate efforts. Searching for ideas is also a great way to spread innovation from one functional area to another.

Does it support tools for implementing improvement? As we noted, getting the idea documented is only the first step. The goal is to implement as many good ideas as possible, so you'll want to ensure that the solution supports improvement tools such as A3 reports, PDSA, kanban boards, value stream maps, and fishbone diagrams.


Tips for Implementation
Develop a Culture that Rewards Experimentation
Employees don't jump headfirst into continuous improvement because there is a fear of failure. Usually, based on past observations, employees are concerned that ideas or improvements that don't work out will lead to repercussions. Leaders must work to create an environment that welcomes change and accepts that some experiments will fail. Each failure should be considered an opportunity to learn and try again.


Leverage Improvement Tools and Techniques
There are several simple yet powerful tools for ensuring the successful implementation of each idea. Problem-solving tools like the 5 whys and fishbone diagrams help teams ensure that the change gets at the root cause of the issue. Structured improvement tools such as PDSA and A3 reports help teams organize each project consistently. Finally, leadership practices like Gemba walks and daily huddles provide opportunities for observation and coaching.


Answer What's In It For Me
When you implement any new technology, there's a risk that employees will see it as one more burden and only tepidly adopt it. The excellent news with idea management software is that there is a lot of benefit to the individual employee. They get the opportunity to help create the conditions under which they can do their best work. They also get a chance to hone their project management and collaboration skills. Those that embrace the opportunity can become known as problem-solving rock stars. In organizations dedicated to continuous improvement, engagement and professional development go hand in hand.


Build Improvement into Employee Onboarding
The fact that you collect, implement, and rely on employee ideas for improvement should be introduced early in the onboarding process. In fact, it is an excellent topic of conversation during the interview. If you introduce continuous improvement early in the relationship, you communicate its importance and allow your employee to develop the right mindset.


Implementing idea management software signals to the organization that leaders are serious about opening the lines of communication around how to make the business better. Most leaders who invest are delighted by the range and creativity of employee ideas. Many are surprised by the effort and energy their team will expend when empowered to identify, manage and resolve opportunities for improvement. It's a concept whose time has come and an advantage to those who embrace it before the competition.