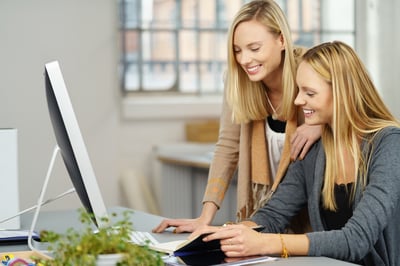 According to Gallup, only 15% of employees report being fully engaged at work. That's why it is no surprise that a growing number of companies are leveraging employee engagement software to try to improve that number. There are many software solutions on the market, so how do you decide which ones to consider?
In order to help transform your organization, employee engagement software must do two things. It must increase employee engagement and measure it.


Increase Engagement
How can employee engagement software help coax more discretionary effort from your staff?
When thoughtfully deployed it can:

Create a Sense of Shared Purpose and Connection
It is difficult to create an emotional connection with the organization's mission and goals if they are rarely discussed and only approached at the executive level. Employee engagement software allows leaders to cascade those goals down to the individual level so that each person knows how their work impacts the greater whole. Aligned organizations have everyone rowing in the same direction, with every team member knowing that they have a critical role to play.


Produce Results that Improve Employee Performance and Success
If you want to know how to increase employee engagement, it's smart to ask them. When an employee becomes disengaged, it isn't usually because they have a bad attitude or that they are lazy. Often it is because there are barriers that prevent the from doing their best work. This is disheartening. If the right resources aren't available, or if there are unnecessary tasks that get in the way of excellence, people mentally check out. Employee engagement software that collects opportunities for improvement will help you identify and eliminate these roadblocks.



Recognize People who Commit to Positive Change
In a survey about job search trends, recruitment firms Accounting Principles and Ajilon found that almost 14% of workers said a bad culture would force them to look for other offers. One of the surest ways to create a culture that employees love is to make employee recognition standard operating procedure. Employee engagement software should allow you to routinely broadcast individual and team successes.
Measure Engagement
It is one thing for employees to anonymously report their level of engagement on a survey, but quite another for them to do it to their manager. Without employee engagement software to measure progress, it can be impossible to know if your efforts are moving in the right direction.
Effective engagement management requires you to know: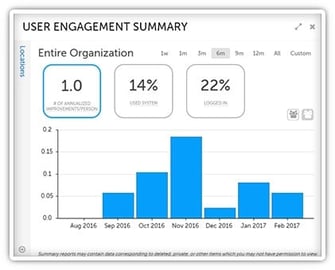 How does engagement look across the entire organization, by location, department, and team?
When you collect and manage employee identified opportunities for improvement in a software platform, you can create a baseline for engagement and measure your progress. You may find that some parts of the organization are setting a great example and find ways to spread what they are doing. You may have a team that is no actively participating in positive change, indicating a leadership issue that needs attention.


How engaged are individuals?
We wrote a bit about the importance of employee recognition when it comes to engagement. With software in place, you can look at the contributions of individuals to see who needs a pat on the back and who might need more coaching and encouragement.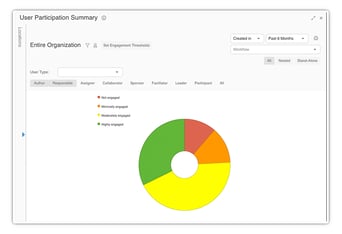 What types of projects are being selected for implementation?

The nature of the opportunities for improvement that you collect will give you some clues as to what is important to your employees and where you may have systemic issues to address. You can also review the balance of improvements that are selected for implementation to make sure that multiple categories of challenges are being tackled.


Are improvements aligned with strategic priorities?
We mentioned the importance of organizational alignment earlier. Your engagement platform should make it easy to determine if the improvements getting implemented are tied to a strategic priority. Making sure that they are will increase that sense of shared purpose.


What are the results of engagement?
Does it matter if employees are engaged? Your gut probably says yet, but without technology, it can be difficult to quantify. Employee engagement software makes it possible to measure the long- and short-term impact of employee suggested improvements. It will let you put a dollar value on engagement and increase the chances that further investments in engagement related programs will be forthcoming.


Investing in a software platform for employee engagement is a big step. However, modern companies know they cannot afford to miss out on the impact of a fully engaged workforce. The results can be truly transformative.