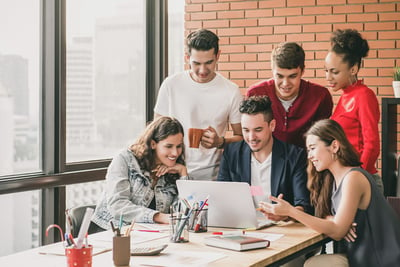 It's hard to believe that 2020 is upon us already. The turn of the year is a time when business leaders and managers tend to reflect on the past twelve months and think about what could be even better in the months to come. It's normal to focus on the financial metrics and goals, but the level of employee engagement should not be overlooked as you start to map out 2020.


Why?
According to one study, in the U.S, disengaged employees cost organizations around $450-550 billion each year. That costly disengagement is widespread. According to Gallup's 2017 State of the Global Workplace, only 15 percent of employees are engaged in the workplace. Yep. 85% of workers are doing only what it takes to get through work each day. On the other hand, that same study showed that organizations with highly engaged employees are 21% more profitable.
The good news is that improving employee engagement isn't impossible or even expensive. There are simple things you can do to shift your culture toward a more emotionally invested workforce. Here are some things to consider trying in 2020.

Refocus on Mission, Vision, and Values
Antoine de Saint-Exupéry, the author of The Little Prince, wrote, "If you want to build a ship, don't drum up the people to gather wood, divide the work, and give orders. Instead, teach them to yearn for the vast and endless sea."
If your employees are 100% aligned with your mission, share your values, and can visualize the mission, all it takes for engagement is to get out of the way. As Netflix puts it in its Culture Code, "Our goal is to inspire people more than manage them. We trust our teams to do what they think is best for Netflix — giving them lots of freedom, power, and information in support of their decisions. In turn, this generates a sense of responsibility and self-discipline that drives us to do great work that benefits the company."


Establish a System and Practice of Implementing Employee Ideas
As counter-intuitive as it may sound, old fashioned employee suggestion boxes are a big driver of employee disengagement. Who wants to go out on a limb by sharing their best ideas only to have them sit in a box, unaddressed. Organizations that are genuinely committed to employee engagement implement technology and management processes to welcome, evaluate, implement, and recognize employee ideas.
It stands to reason; your employees are closest to your customers, processes, and products. Chances are they know how to get better results, but they haven't been asked, or their suggestions have been ignored. Addressing that in 2020 would be a game-changer.


Transform Employees into Brand Ambassadors
Whether you want them to or not, your employees are talking to the world about your brand. According to the public relations firm, Weber Shandwick, 98% of employees use at least one social media site for personal use, of which 50% are already posting about their company. This can be a nightmare, or it can be a more powerful force than any customer or candidate marketing you could do.
First, give your employees every reason to be proud of the organization they serve. Next, provide them with the information and tools they need to share the story of your brand positively.


Provide Opportunities for Personal Growth
When we bring up the idea of personal development, many leaders jump right to formal training or certification programs. Those are great and make sense for a lot of organizations, but there are many other ways to help employees stretch themselves.
For example, you might try allowing team members to facilitate rapid improvement events. The experience will help them develop leadership skills and practice accountability. Another option is to take turns running daily huddle meetings so that everyone develops that management skill. Anytime you can coach someone through problem-solving, rather than solve the problem for them, you provide an opportunity for growth.
The modern approach to employee engagement goes well beyond company outings and team-building exercises. It's more about creating a deeper connection between employees, the work they do, the organization, and the collective impact. 2020 is the perfect time to embrace this people-first philosophy.