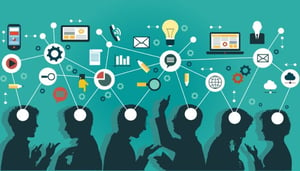 Corrective and preventive action (CAPA) are improvements to an organization's processes taken to eliminate causes of defects and waste. The approach focuses on the systematic investigation of the root causes of identified problems or identified risks in an attempt to prevent their recurrence (for corrective action) or to prevent occurrence (for preventive action). The success of CAPA implementation is largely dependent on an understanding of KPIs and the ability to use them to identify performance non-conformities.
Like any other continuous improvement approach, CAPA programs are most effective when supported by technology.
CAPA software helps ensure that each identified problem or risk is addressed quickly and completely.


CAPA Inputs
The issues that can trigger CAPA work are varied. They include repetitive or critical non-conformities, process efficiency issues, equipment problems, audits or complaints, and incomplete or deficient procedures. What these things have in common is that they are all most likely to be first noticed by front line employees. The very people who will feel the impact of the issue. That's why CAPA software makes it easy for any employee to report a problem or risk. These opportunities for improvement serve as the inputs for the CAPA process. The best solutions are available 24x7 on any device. They allow for complete documentation of the issue, including related images and files.


Corrective Action
The CA part of CAPA involves finding and correcting the root cause of the problem. Teams may use PDSA, DMAIC, the 5 Whys, or other techniques to dig into the issue. This frequently requires cross-functional collaboration and may involve several layers of management, subject matter experts, or others. CAPA software serves as the foundation for this work, giving everyone involved a way to document what they are doing and track the progress of others. It provides notifications and alerts to make sure that important tasks and milestones aren't missed.
Once the issue is resolved, the CAPA solution can be used to measure the impact of the improvement against both financial and non-financial metrics. This is the key to maintaining enthusiasm and executive support for the CAPA approach.


Preventative Action
Solving the problem for now is only the first half of CAPA. When that is done, the next step is to figure out how to prevent recurrence of the original problem or similar problems. In many cases, this involves more emphasis on change management, as well as production and process control. CAPA software serves as the repository for the projects and documents associated with these controls. It also creates a repository of past improvement activities, making it possible for teams to learn from what has worked well in the past.
For many companies from manufacturing to healthcare the Corrective and Preventive Action process is part of everyday operations. With the help of CAPA software, your organization can improve product quality, ensure customer satisfaction, and achieve the financial goals of the business.