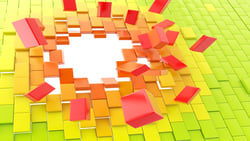 In previous posts, we've outlined the principles and steps involved in implementing the Hoshin Kanri (aka "policy deployment" or "strategy deployment") approach to strategic planning and execution. Today, we want to dig a bit deeper and look specifically at what successful companies do when creating their strategic plans.
Focus
It is essential to build your plan around three to five goals that are truly strategic. Hoshin planning isn't about creating a laundry list of possible improvements that can't be completed. Doing so can be counterproductive because it takes the emphasis off the things that the company absolutely must achieve to ensure long-term success. It's better to complete a few projects that are truly strategic rather than pretending that we can do it all (which will never be true). Don't get stretched too thin. Karen Martin's book The Outstanding Organization is a great read on focus and other topics.
Include Incremental Improvements and Breakthroughs
The Hoshin process is designed around the idea that you need to achieve short term objectives and reach long term goals. Short term and long term need to be in alignment. Therefore, goals should include some that are incremental and others that represent significant, dramatic changes for the organization. You can do big strategic initiatives while simultaneously asking staff to identify and implement more incremental improvements in their department or value stream.
Distinguish Between Efficiency and Effectiveness
It is possible to be extremely efficient at doing the wrong things. Hoshin planning gives you the opportunity to assess whether business as usual is truly effective or merely efficient. What are your "True North" goals? For most organizations, they include far more than just cost or this year's bottom line. Most organizations include things like safety, quality, innovation, customer satisfaction, and long-term growth as key objectives...and those are all focused on effectiveness.
Gather Consensus
Executive management is responsible for developing the strategic plan, in fact, it is one of their primary obligations. However, working through the process with the next level down in leadership, playing catchball back and forth, helps ensure a more informed and feasible strategy. It also helps to develop a shared sense of ownership for the plan and increases engagement and energy. But, remember that it's rare to get 100% consensus. Sometimes individuals might have to agree to "disagree but commit" to a plan or direction, rather than undermining things as you go forward.
Select KPIs Thoughtfully
Choosing the right key performance indicators (KPIs) is critical to successful implementation of the strategy. They should provide an accurate measure of success toward goals and be based on objective data. Keep in mind that KPIs drive behavior and think carefully about any unintended consequences that may arise when employees make decisions based on their desire to meet the target KPI. Having a "balanced scorecard" of metrics would help prevent somebody from focusing too much on cost at the expense of quality, for example. You need to improve them both (and you can!).
Assign Ownership
A goal without an owner is just words on paper. Every goal should have an individual who has the authority and responsibility to see that roadblocks are removed and forward progress is maintained, checking pretty regularly throughout the year, not just at the end of the year.
Hoshin Kanri planning is not that complicated... but it is very different than the way most organizations do things. When well executed, what it does is bring a higher level of mindfulness and discipline to the practice of strategic planning... and execution. Organizations that take it seriously and follow these guidelines set themselves on the path to extraordinary performance.