The Lean business model is about making continuous improvements to business operations and implementing processes that result in optimum business efficiency. The desired results are reached by removing ineffective processes, identifying and eliminating unprofitable products, and improving team productivity.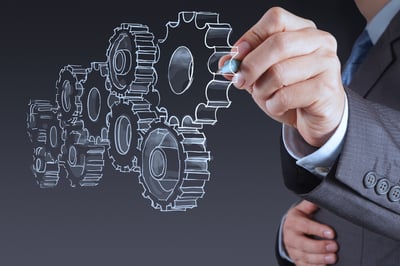 The Lean approach is sometimes referred to as operational excellence or continuous improvement. No matter what you call it, the model is focused on identifying the areas that are hindering business growth and addressing them effectively. This requires demonstrating respect for employees and fully understanding the customer journey. Achieving these objectives brings significant advantages to both the organization and its customers.


What are the benefits of building a Lean business?
Augmented Leadership Skills
From C-level leaders to directors, middle managers, and supervisors, the Lean business model encourages a more proactive and thoughtful approach to management. As a result, leaders become more adept at finding and minimizing non-beneficial practices.
When the Lean model takes hold, all managers begin to identify how their business area could implement improvements to achieve better efficiency, higher quality, and maximum profitability. Clear goals add clarity to every management role and help individuals develop their skills in building a more united and effective team.


Engaged Employees
The Lean business model emphasizes each employee's value to the organization. It demands their attention and encourages increased participation in positive change. Employees who feel connected to the organization's purpose and their team's immediate goals are more apt to expend effort to achieve the organization's strategic goals and short-term targets. Employee engagement is enhanced when a broad cross-section of team members can participate in business planning.


Accelerated Growth
Because Lean businesses expend effort only on essential activities, companies use the model function more holistically. As a result, lean gives a more complete insight into the organization's operational effectiveness, allowing people to better optimize what is working and eliminate what is not. As a result, lean organizations continuously grow through improved leadership skills, increased employee engagement, individual efficiency, and enhanced customer value.


Customer Satisfaction
Lean leaders put customers first by understanding their point of view and what matters to them. The customer journey becomes the center of everything the business does. Nothing is more valuable than customer feedback and opinions. Lean businesses don't just gather this information; they act on it and frequently iterate to meet customer needs.

Plan, Do, Study, Adjust (PDSA)
While there are many tools and techniques that help leaders build a Lean business, one of the most fundamental is the PDSA improvement cycle. PDSA offers a structured and consistent method of problem-solving and implementing positive change. It can be repeated as often as needed to move each process or activity closer to perfection.
Plan
During the planning phase of an improvement project, the team asks the following questions:
What are our goals for this project?

What is the current situation?

How will we define and measure improvement?

Who should participate in this project?

What are the key dates and milestones?
After these questions are answered, the team can agree on what change should be implemented to reach the goals.


Do
This is the experimentation phase in which the proposed improvements are implemented. It is essential not to implement too many changes at once so that you can be clear about what is impacting the outcomes. It is OK to be patient because the cycle can be started again very quickly if additional changes are needed. Keep in mind that, like with any scientific experiment, careful observation and data collection are as crucial as the implementation itself.


Study
This phase compares the actual results with what the team expected would happen. While it is often overlooked in non-Lean organizations, it is essential for lasting success. Observations are helpful, but objective data should be the deciding factor whenever possible.


Adjust
If the study phase indicates that a positive change has resulted from the experiment, the new process becomes the standard. The Standard Work documentation and any supporting materials, instructions, or signs are adjusted. The next improvement cycle will be performed against this new best practice.
Supporting Tools and Techniques
While PDSA forms the basis for change in Lean businesses, there are several tools and techniques that teams use to support it, including:
Control Charts
Control charts are graphs used to visualize how a process performs over time. Data points are charted in time order in a graph with a center line for the average, an upper control limit, and a lower control limit. Visualizing the information this way helps leaders avoid reacting to every up and down movement. They also help prevent the common mistake of looking only at the average results instead of process variation.


Kanban Boards
Kanban boards are another visualization technique for optimizing the flow of work-in-progress or raw materials. They help achieve a pull system in which work-in-progress, raw materials, or parts are only moved within the process when they are needed. Toyota developed the approach using physical inventory cards, but today, Kanban is managed digitally by organizations of all types.


A3 Reports
A3 reports are a method for structured problem-solving. They get their name from the size of paper used in the days before Lean business software. An A3 report captures the information produced in a PDSA cycle in organizations that use them. A3 reports provide a standard planning, problem-solving, innovation, and knowledge transfer process.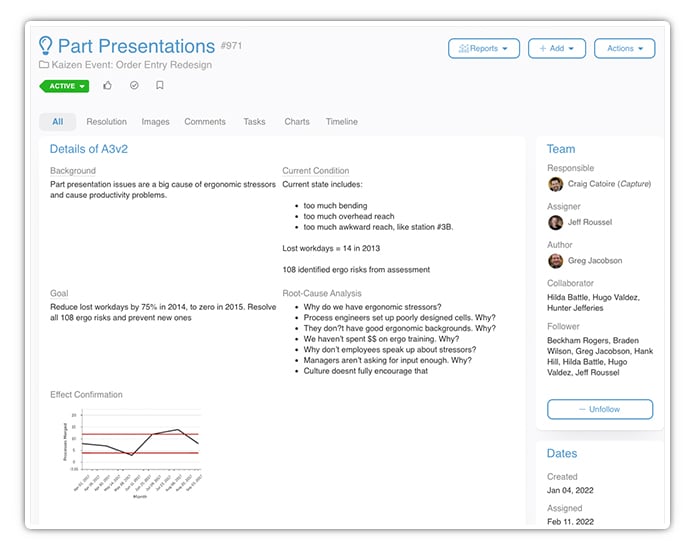 Examples of Lean Businesses
Any size or type of business can become a Lean business by applying the principles of respect for people, continuous improvement, and waste reduction. Therefore, you'll find Lean being practiced in almost every sector.
Healthcare
Lean in healthcare aims to look carefully at every step in a process, such as an office appointment, and identify which actions add value, which do not, and what can be improved. As a result, the people closest to the patient, physicians, nurses, medical assistants, and front office staff, are in the driver's seat to create better patient experiences and outcomes.
Targets for improvement in Lean healthcare organizations are waiting, unnecessary tests, missed diagnosis, overly complex paperwork, and unused medications or supplies.


Construction
The popularity of Lean in the construction business is increasing. The method is well suited to meet the needs of an industry in which budgets, safety, and timelines are all critical. In addition, the Lean approach to construction unifies all stakeholders, including the owner, engineers, architect, general contractor, subcontractors, and suppliers.
Common causes of waste in construction include unnecessary movement of equipment, inspection failures, waiting, and underutilized talent.


Software Development
Businesses that build software solutions have turned to Lean to help better meet customer needs and accelerate time to market. The PDSA approach fits nicely with the rapid development cycles of most software development organizations. Kanban boards are an excellent fit for controlling work in progress as a software project moves from requirements development through coding and QA.
Targets for waste reduction in software include bugs, underutilized product features, unclear or unnecessary documentation, and ineffective resource utilization.


Education
If there is one group of folks who are constantly asked to do more with less, it's teachers. Budgets are tight, and expectations for student achievement are high. Lean helps educators focus on what activities will benefit students and minimize all of the other required but non-value-adding activities. Lean isn't only applicable in the classroom; it can help optimize related functions such as food service, office administration, transportation, and facility maintenance.
Educational organizations find waste in outdated or unused books or other materials, disorganized classrooms or other workspaces, too many or too few consumable supplies, and underutilized creativity and passion.


These are just some types of organizations that have discovered the benefits of the Lean way of thinking. If you'd like to learn more about how it might help yours, our team can share how our customers have transformed theirs with Lean.