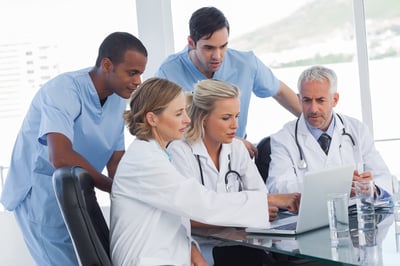 The Leapfrog Group is a nonprofit organization founded in 2000 by large employers and other purchasers of healthcare concerned with quality and safety. The cornerstone Leapfrog Hospital Survey collects and reports hospital performance, giving consumers and other purchasers the ability to make informed decisions and find the highest-value care. The Leapfrog Hospital Safety Grade assigns letter grades to hospitals based on their patient safety record, providing transparency around critical issues such as errors, injuries, accidents, and infections.
The best performing hospitals on the Leapfrog Hospital Survey are recognized each year with the prestigious Leapfrog Top Hospital award. These hospitals have better systems in place to prevent infection, reduce medication errors, deliver the highest quality maternity care, among other qualities. To be eligible to receive the award, hospitals must have received a Leapfrog Hospital Safety Grade of A in the most recent scoring round. The award is not limited to a particular number of hospitals; instead, all teaching, rural, general, and teaching hospitals, that meet the high standards for each year can receive the award.
The 2020 Leapfrog Hospital Survey is free, and this year it is open to hospitals from April 1 to December 31, 2020.


World Patient Safety Day - September 17, 2020
Leapfrog is a co-convener of the Patient Safety Movement Foundation's Virtual Event, #uniteforsafecare. The event is free to the public and will happen on September 17, World Patient Safety Day, from 5-8 pm ET on YouTube Live.
"The Leapfrog Group's focus on giant leaps forward in the quality and safety of American health care requires bold action," said Leah Binder, president and CEO of The Leapfrog Group. "As our society battles the coronavirus pandemic, the safety of both health care workers and patients has never been more important. We're pleased to join the Patient Safety Movement Foundation in striving for better, safer health care for all."
Elements of the Survey
The measures included in the Hospital Survey are based on the latest science. They are and chosen with guidance from scientific advisors at the Armstrong Institute for Patient Safety at Johns Hopkins Medicine and Leapfrog's volunteer Expert Panels. Information submitted by hospitals to the Leapfrog Hospital Survey is verified through an intensive data review and on-site data verification processes. Areas covered include:
Inpatient Care
Medication Safety
Maternity Care
Infections
Inpatient Surgery
Pediatric Care
Outpatient Procedures


How KaiNexus Can Help
The lynchpin for achieving excellent patient safety and value results is continuous improvement. Hospitals that receive the Leapfrog Top Hospital award are those in which every person is involved in finding ways to eliminate errors and improve patient outcomes. The KaiNexus solution supports these efforts in several important ways.


Improvement Capture
KaiNexus software provides the platform for capturing every potential improvement observed by any employee. Improvement collection is so crucial that it must be easy for anyone to enter a new opportunity with all relevant details and documentation. KaiNexus is available 24x7 on any device.
Digital Huddle Boards
Many healthcare organizations use huddle boards and daily huddle meetings to organize and execute improvement projects. KaiNexus allows users to create virtual huddle boards that show more than just the current state of improvement work. People can drill own into each project and understand the history and the impact of each completed improvement.


Dashboards, Alerts, and Notifications
KaiNexus software allows leaders to monitor the vital signs of their improvement culture. Customizable dashboards make it easy to visualize engagement, activity, and impact. Alerts and notifications keep people engaged and warn when tasks are due, or a deadline is missed.


Strategic Alignment
Most hospitals have particular areas of intense focus or necessary improvement. KaiNexus allows leaders to cascade the essential objectives down through the organization so that every person understands how their role plays a part in achieving the critical goals. This approach helps to align improvement activities and simplifies decision making.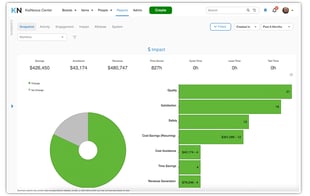 Impact Analysis
Top healthcare organizations are data-driven and require quantifiable evidence that an improvement has been effective. KaiNexus impact reports are the best way to get insight into whether your initiatives are improving results related to specific strategic goals over the long term.
For 20 years, the Leapfrog Group has helped to achieve giant leaps forward in the safety, quality, and value of healthcare in the US. KaiNexus applauds this effort and is dedicated to helping customers achieve the high standards necessary to be included among the nation's top hospitals.