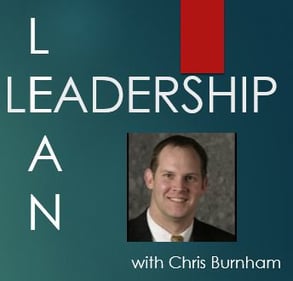 In our continued effort to share great resources for continuous improvement with you, I'd like to introduce you to Chris Burnham, the host of Lean Leadership Podcast. Well, you've actually met before, though you might not realize it; Chris wrote this awesome guest post for us a couple of months ago about the Top 5 Mistakes Lean Leaders Make. His writing was such a hit with you guys that I thought you'd like to see what he's working on.
The Lean Leadership Podcast went live earlier this year, and Chris has interviewed 12 experts in the field of Lean, Six Sigma, and Leadership to date. One of those experts is Dave Ferguson, an internationally recognized leadership and personal development coach, speaker, and trainer. In this interview, Dave talks about how a lack of leadership development in corporate America has resulted in executives that are content to be "a boss," rather than striving to be "a leader." He coaches corporate leaders in the way they operate and the way they treat people, helping them to focus on intentional leadership action by asking themselves "How can I be significant to someone else today?"
Hop on over to the Lean Leadership Podcast to meet Chris Burnham and Dave Ferguson!


Chris has another guest post coming up on our blog, and will be interviewing our CEO Greg Jacobson on his podcast in a couple of weeks. Click the button below to subscribe to the blog so you don't miss either of these gems.