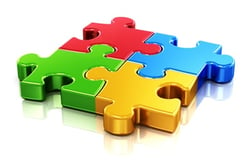 The Lean approach to business management is popular because it provides a useful structure and a language for the pursuit of continuous improvement. Many organizations have used it to become more profitable, efficient, and competitive.
Those that have been successful with the approach recognize that strong Lean leadership is essential. While most ideas for improvement come from front line employees, leaders are central to creating a culture where innovation can thrive.
There are four duties that Lean leaders must fulfill:
Commit
The practice of Lean isn't a sometimes thing. It introduces a new way of thinking that must permeate every aspect of the organization in order to be successful. Identifying and eliminating waste need to become second nature. If employees get a sense that continuous improvement is just a talking point, or if there are no resources dedicated to Lean efforts, the approach is unlikely to catch on.
The level of investment in terms of time, people, and technology resources, will directly impact the adoption of Lean principles. For big results, big commitment is necessary.


Engage
Executive investment in Lean initiatives is one way that employees will judge how important it is to the company. Another is how engaged leaders are in the practice, management, and promotion of Lean ways. If the subject only comes up in quarterly meetings, your team is unlikely to truly engage.
However, if they see leaders using Lean tools, executing Gemba walks, talking about Standard Work, and really getting involved, they will be far more likely to engage themselves.


Coach
It is unlikely that everyone you have hired will understand how to look for opportunities for improvement, eliminate waste, work to a standard, and maximize customer value. Lean training is an essential first step, but as with any other skill, people will need support and coaching over time to really become proficient at the methodology. With effective coaching, you can pass along the skills necessary to develop managers and supervisors who can successfully mentor their own teams.


Organize
Lean is an approach that touches all areas of a business at all levels. It requires the constant flow of information from one person or department to another. It is also essential to track the progress of improvement activities and to measure and report on the results. Smart Lean leaders provide the structure necessary to organize all of these activities.
If all of this seems like a tough ask for Lean leaders, that's because it is. Fortunately, Lean software helps with each obligation. It signals commitment, makes smart engagement easy, provides the insight necessary for timely and useful coaching, and supports all improvement work with an organized foundation. Effective Lean leadership is possible, even enjoyable, with the right tools and mindset.