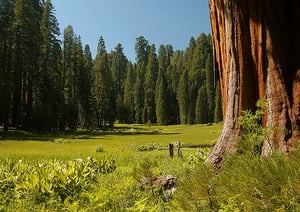 I'm sure you are all familiar with the saying, "Sometimes you can't see the forest for the trees." This idea is true in many ways. Parents can relate. When your four-year-old is having a meltdown in Target, it's hard to remember how much joy she brings to your life. I think most business people can relate too. Sometimes we get so focused on what needs to be done on a given day, or what crisis is brewing at the moment, that it is hard to remember the bigger picture.
For those implementing Lean business practices, the day to day grind can make you forget the core principles that attracted you to the approach in the first place. It is smart to step back every once in a while and remind yourself and your team why you are committed to being a Lean leader.
Here are some if the principles to keep at the top of your mind.
Lean is a Journey
There is no box to check that says, "Lean Accomplished." Lean is a path of progress built on incremental improvements, not a quick fix or the program of the month. It may feel like the road is steep, but every change makes you a bit more Lean. Patience is a key lean leadership virtue. Sure, there are things you can do to accelerate improvement, but a culture change will not happen overnight and it will never be finished.


Perfection is the Ultimate Goal
Good enough, well, isn't. Even processes that don't appear "broken" can be improved. "That's how we have always done it," isn't a relevant statement. Lean leadership requires an urgent desire to ask questions and rethink processes. It demands intense curiosity and the willingness to experiment. That's not to say, however, that you should only make improvements once you've planned enough to achieve perfection. This can be a major barrier to implementing improvements, and it is far better to take small steps in the direction of perfection than it is to wait until you think you can achieve perfection in one foul swoop. Don't let perfect be the enemy of better.


Customer Focus is Paramount
Lean organizations seek to eliminate waste. Why? So that they can deliver to the customer exactly the value that they are willing to pay for. Customers don't want to pay for defects, administrative overhead, delays, or excess inventory, so we must seek to minimize them. On the other hand, Lean is not simply about cutting costs. Things that do add value to the customer like great support, high-quality materials, and innovative products and services should always get the investment and attention they require. The key here is to spend money on what you need in order to provide higher value to your customers - from better products to happier employees who are more attentive to their work - and reduce spending in areas that add no value.


The Best Processes Are Brilliantly Simple
Think about all of the wastes of Lean that can be minimized by simplification. Transportation, motion, and over processing are all flags that point to the need for simplification. Some people believe that improvement is about doing more, lean leaders need to divest them of that view. Coach your people to work smarter, not harder.


Every Employee Deserves Respect
One of the techniques practiced by Lean leaders is the Gemba Walk. The shortest description of the practice is, "Go see. Ask why. Show respect." By bringing all employees along on the improvement journey in this way, not only do you get better results, but you also reinforce the idea that they are skilled in what they do and that you value their contributions to the organization. Mutual respect creates the only environment in which true emotional engagement can thrive.
It's a good idea to imagine yourself in a helicopter above your Lean forest. Get out of the woods for a minute and examine the health of your Lean efforts. KaiNexus customers have dashboards to help, but even if you don't have Lean technology yet, you can still take a step back, remind yourself of the core principles of Lean, take a deep breath, and begin anew.
For more information on being a better Lean leader, check out this free webinar: