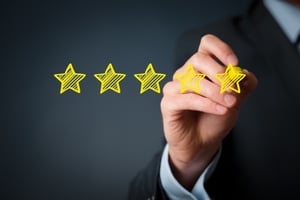 Choosing to implement technology to support your Lean management efforts is an important first step on the path to continuous improvement. It's unlikely that you choose Lean management technology on a regular basis, so it isn't surprising if you are finding it a challenge to find the best solution for your organization. Some solutions offered up as Lean management software are nothing more than basic project management tools described in terms of Lean. The most successful leaders instead opt for a solution that was built from the ground up as an improvement management platform.
Here are six features to look for if you want to select a best-in-class lean management system.
Systematized Improvement Management
Opportunities for improvement are a core component of Lean management and capturing them is an essential function of a Lean management system. The platform should make it easy for every employee from the c-suite to the front lines to enter opportunities for improvement whenever they encounter them. The staff should be able to enter new opportunities or work on current projects from the device of their choice, anywhere, at any time.


Digital Huddle Boards
Daily huddles are a staple in many Lean organizations. They often involve team members gathering around a whiteboard or poster that shows the current progress of improvement projects. The best Lean management systems take this concept to the next level by providing fully customizable digital huddle boards that make it easy for staff to participate in huddle meetings from wherever they happen to be. This approach also lets leaders easily manage multiple boards at the same time.


Improvement Scorecards and Reports
Lean is a management practice that is driven by data. Executive leaders and managers should be able to assess the health of their improvement culture by reviewing improvement results and trends. The Lean platform should provide a visual management interface so that the pace and impact of improvement work can be understood. It should also be easy to identify and recognize the employees, teams, and departments that are contributing to positive change.


Comprehensive Search
While it may seem like a given, robust search capabilities aren't present in every software solution that claims to support Lean. With comprehensive search capabilities, your Lean management system can become the home for your organization's tribal knowledge. Look for a solution that lets you search by topic, status, department, or keyword. Your solution gets bonus points for alerting people to possible duplicates You should be able to filter the results to quickly find the information you need at the moment.


Active Alerts and Notifications
One of the main goals of Lean management software is to help keep people involved and engaged in improvement. Alerts and notifications keep everyone informed and help ensure that progress is maintained. Of course, you want to strike the right balance between useful information and too much noise.


Collaboration Capabilities
Lean management is all about collaboration and cross-functional teamwork. Your Lean management system should make it easy for people to work together even if they are in different locations or functional areas. Status updates, comments, and key performance indicators should help keep everyone on the same page and working toward common goals.


It doesn't make much sense to choose a system that doesn't support these core management needs. You don't have to settle, you can find Lean management technology that does all of this and more. When you do, you'll put down a strong foundation for success.