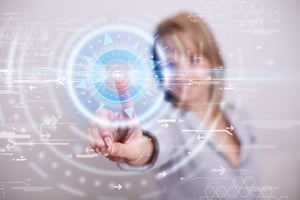 Investing in software to support your Six Sigma initiatives is an effective way to make sure that you get the most out of the methodology. Setting up a structure for improvement makes it simpler for people throughout the organization to participate in, and effectively oversee, continuous improvement efforts.
Organizations that leverage Six Sigma software collect more opportunities for improvement, implement more solutions, and see a higher ROI for Six Sigma. There are a number of solutions on the market that were either developed as Six Sigma management tools or repurposed as such, so we thought it might be helpful to identify some of the most important capabilities that you should look for when evaluating this type of technology.
Essential capabilities include:
Capture Opportunities for Improvement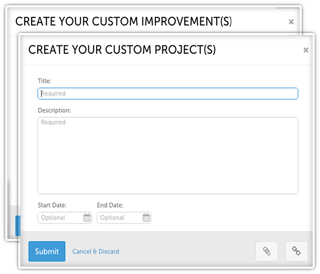 Any solution you consider should make it easy for every person I the organization to identify and record opportunities for improvement. This is central to the Six Sigma approach and should be at the heart of the solution you choose.
Cloud-based software that is available 24 x 7 and on any device is the most logical deployment option. It will make it possible for people to report what they find from wherever they happen to be and for managers to respond to opportunities even if they don't happen to be in the office.
The solution should allow users to add any documents or images that might be relevant to the opportunity for improvement and it should create an audit trail that will store the details of what happens to each opportunity over time.


Accelerate Improvement Workflow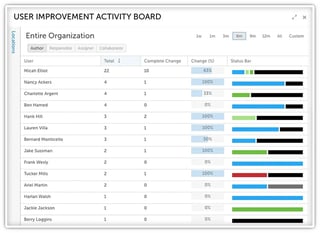 Once an opportunity for improvement is captured in the system, there should be a defined workflow for what happens next. Who will evaluate and prioritize the opportunity? How will the person who reported the opportunity know what is happening with it?
The best Six Sigma solutions have smart alerts and notifications so that the people who will assess and approve opportunities are notified immediately when a new one is entered. They can then assign related tasks to the right people and teams.
Once work on a project starts, additional alerts notify appropriate personnel when tasks are completed, or due dates are missed. This accelerates the pace of improvement.
Measure Impact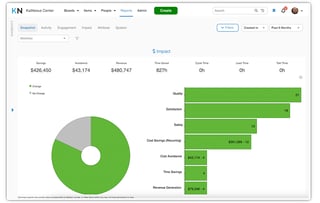 Six Sigma brings an evidence-based, scientific approach to business management. Each process is only changed after a ridged evaluation and pre-defined improvement cycle like PSDA or DMAIC. It only makes sense, therefore, to bring that same precision to measuring the impact of the changes that are implemented.
Your Six Sigma software solution should help you report the impact of your improvement work in terms of cost reduction, increased revenue, improved customer satisfaction, reduced cycle time, or any other metrics that are important to your business. This will help justify the investment in Six Sigma programs, keep employees motivated, and drive executive engagement.
Visual Management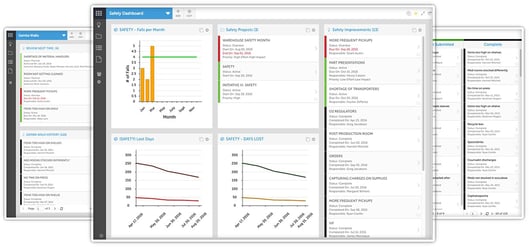 Many Six Sigma techniques involve visualization. Value stream mapping, Kanban, A3, Kaizen boards, and others all help people instantly understand complex information in an instant. Look for Six Sigma software that takes visual management to the next level, giving users the ability to set up dashboards and reports that quickly tell them what they need to know.
Executives should be able to easily assess the health of Six Sigma in the organization. Project managers should see the flow of work and recognize roadblocks immediately.
Improvement Broadcasting
Six Sigma requires a team effort. The approach pays off most when it becomes part of the culture and goes beyond any particular tool or technique to endow every employee with a strong sense that they are vital to the success of the organization and the constant improvement is a fundamental responsibility of every single individual. Six Sigma software solutions with built in improvement broadcasting capabilities help reinforce the importance of Kaizen. This type of recognition is also powerfully motivating and one of the things that employees consistently tell researchers they want more from employers.
Six Sigma can profoundly transform an organization for the better, but it doesn't always do so. Success requires executive support, investment in necessary tools and resources, and a willingness to embrace constant change. Six Sigma software doesn't guarantee results, but it puts the organization on the right footing to accelerate improvement, make smart decisions, and learn from past experience. Selecting one with strong capabilities in each of these areas will help ensure that you get a solution and a partner that can smooth your path toward better business results in terms of the metrics you care about most.