At KaiNexus, we're constantly amazed and impressed by our customers. This includes the good folks at Mary Greeley Medical Center in Iowa. They've received the top level state Baldrige recognition, which proves their dedication to quality improvement (read our previous post about that).
In December, Karen Kiel-Rosser, a Vice President and their Chief Quality Officer presented a webinar, along with Ron Smith, a Process Improvement Coordinator. They shared many highlights about their Lean journey with us and our attendees.
In this post, we'll share a few highlights.
Karen started by discussing their improvement work in the mission and purpose of Mary Greeley Medical Center, which includes "patient-centered care" and a "culture of quality, safety, & service." Simon Sinek, by the way, is one of our favorite authors within the KaiNexus team, and he says to "start with why," which seems to be a core part of the approach for MGMC.
Their journey also started with a very strong commitment from their Board, in 2009, along with Lean education. This was followed by training in 2010 for leaders at various levels of the organization, to provide them with a strong foundation in Lean thinking, methods, and principles. Their training approach emphasized learning by doing and taking classroom education out into the workplace, in the model of "see one, do one, teach one."
Karen also emphasized how they decided which processes needed to be analyzed, standardized, and improved first. They didn't standardize for the sake of standardizing... they started by asking "why?" and by identifying the most critical processes to their patients and the organization, their "Top Ten Work Process." To Mary Greeley, standardized work means:
"Standard Work is the known best method (safest, highest quality, or most efficient) to perform a task, broken down into elements which are sequenced, organized, and repeatedly followed. Standard Work is dependent upon those closest to the work helping to design and continuously improve their work processes."
Karen then talked about a mantra we agree with strongly, that creating a culture of improvement requires three things: a methodology, leadership, and technology. KaiNexus is, of course, the technology they use.
They started first with other project-based approaches to improvement, which included a formal "WorkOut" process that we helped them with. Here's how they summarized the impact of their WorkOut: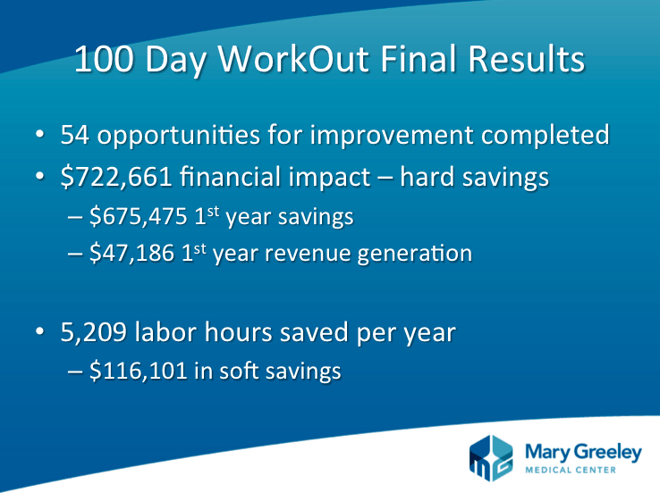 Impressive, right? Learn more about their WorkOut here.
They also used methods such as 6S, value stream mapping, A3 problem solving, and Rapid Improvement Events... all working toward their goals and mission.
As they shared in the presentation, they were focusing on the top two-thirds of this triangle... so it was time to add what they call "Managing for Daily Improvement" into their approach.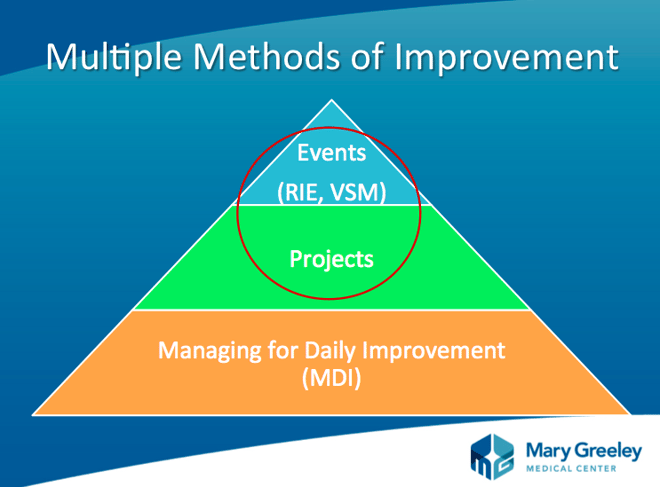 Over the past year, MGMC has piloted and spread a robust methodology for continuous improvement that happens every day. MGMC shares the belief of Toyota and other high-performing organizations that "every employee has two jobs" which means "doing the work" and "improving the work." Everybody is capable of bringing forward and implementing ideas that can improve the way people do their work and serve others. We also helped them bring that methodology into the organization through our "KickOff" approach.
Their results of the first year of MDI: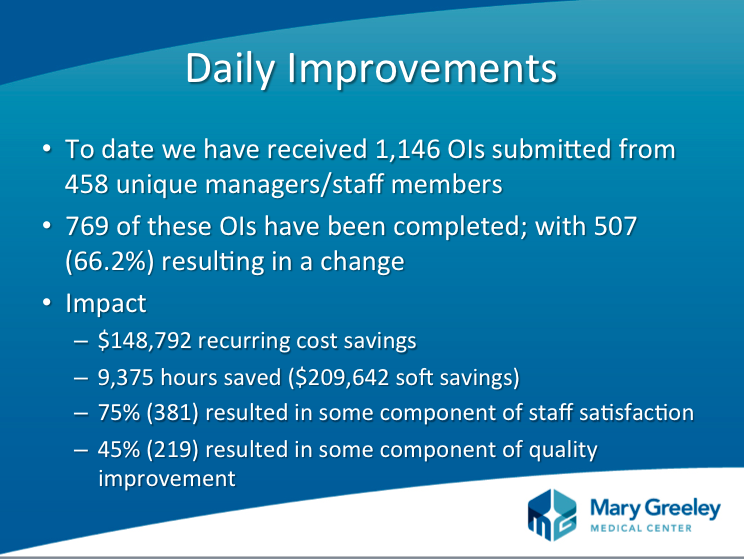 It's a very rich and compelling story, as told by Karen and Ron.
We're excited to see what they'll accomplish here in 2016!!