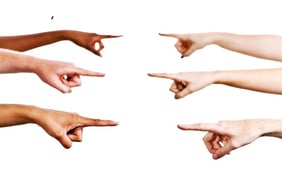 I could just write, "Everyone is responsible for improvement management," and make this the shortest blog post ever. But I remember a cartoon I saw once that had a picture of a teacher telling a class of young children that, "Everyone is special." One of the kids raised his hand and said, "If everyone is special, doesn't that mean that no one is special?"
"Everyone is responsible," often translates to, "No one is responsible." (Why should I worry about something if everyone else is?) That's not very helpful. I do believe that every person in an organization is (or should be) responsible for improvement management, but each is responsible in a different way.
Listen, as part of our Podcast series:
Executive Leadership
Although the C-suite should never be dictators of improvement, they do have certain special responsibilities that only they can fulfill.
Culture: A culture of improvement is essential for companies that want positive change to be a way of life. Employees take their cues about what an organization values from how executive leadership behaves.
Support: It is the responsibility of the executive team to provide the tools and other resources necessary to sustain improvement momentum. This includes training, improvement management software, and sometimes consulting.
Investment: Committing to improvement doesn't have to be expensive (in fact, many improvements save money), but some level of investment is often necessary to achieve large gains.
Managers and Supervisors
Everyone who directly manages others has an enormous role to play in improvement management.
Coaching: Managers are in the best position to assess the potential and cost of each opportunity for improvement. From there, they can give the OK for people to implement their ideas and watch from the sidelines, or provide additional coaching to help people identify better solutions to implement.
Workflow: Once an opportunity is selected for action, managers bear the responsibility of making sure that progress is being made. They should receive alerts and notifications from their continuous improvement software as tasks are completed or deadlines are missed.
Recognition: Employee engagement is essential in a culture of improvement. Recognizing and rewarding the efforts of those who contribute to improvement is a core responsibility of every one who supervises people.
Front Line Employees
Front line employees are the "killer app" of improvement. They know exactly what the biggest challenges are and very often, they know how to solve them.
Opportunity identification: The people who are closest to your organizations problems are the front line employees who execute processes and workarounds every single day. They should be empowered and held accountable for identifying ways to improve.
Collaboration: Solving many problems requires employees to engage in cross-functional collaboration. Every employee should be ready to assist another team when needed (and be equipped with the tools necessary to accomplish this).
Execution: Once an opportunity to improve has been identified and selected for action, front line employees are heavily involved in planning, assessing and implementing the change. Once a new Standard Work is developed, they are responsible for executing it exactly until another improvement is made.
Ultimately everyone is responsible for improvement, with each individual having a different way to contribute. It is important that everyone understand their role and take pride in their impact on the success of the organization. It turns out that everyone is special after all.