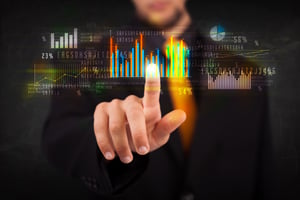 If you are in the market for change management software, we'd like to help. One of the most frequent questions we get asked is what to look for in a change management and improvement platform. Most people know the basics of what they need but aren't completely versed in all the possible capabilities that technology might bring. We find that it is common for people to be so concerned with getting data into a software solution that they don't place enough emphasis on getting data out. However, measuring and reporting on the impact of change is central to the success of a culture of continuous improvement.
This post lays out everything that you might want to look for when it comes to reporting and impact measurement. Some reports may be more or less important to you depending on the nature of your business, but we think it is helpful to know what you can expect to be available.
We've also put together a handy spreadsheet for change management software selection that you can download to create a weighted score based on the capabilities of each solution you consider.
When it comes to reporting, look for a solution that includes:


Change Management Health Reports
Organizational, Team, and Individual Reporting. You want to be able to get an overall assessment of change management across the organization, and then drill down to see how each group and person is performing.
Impact/ROI Reports. You should be able to easily assess the quantitative and qualitative impact of change within the organization and calculate the ROI of those efforts. You should be able to create impact categories to focus on the breakthrough objectives of your business.
ROI Projections. It is helpful to be able to predict the ROI of improvement projects prior to completion to help with priority setting and resource allocation.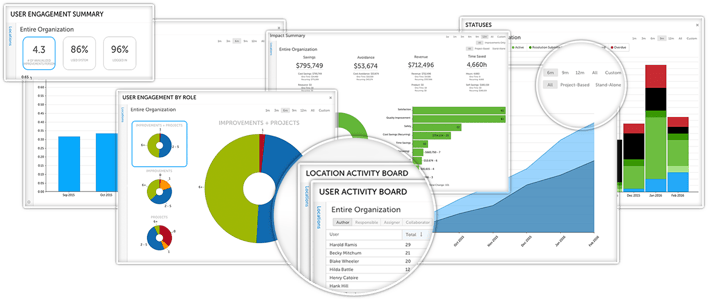 Charts and Data
Visualization is an important part of change management and charts are an essential improvement tool. The best change management solutions include:
KPI Tracking. Assure that goals are aligned by tracking the results of change based on the performance indicators that are essential to achieving your short and long-term goals.
Run, Bar, Pareto, and Bowling charts. Choose a solution that gives you the flexibility to configure your metrics in the type of chart that makes the most sense for each process or situation.
Data-Based Triggers, Filters, and Notifications for Out-of-Range KPIs. Make sure that the right people are automatically notified when the system recognizes a KPI that is not as expected.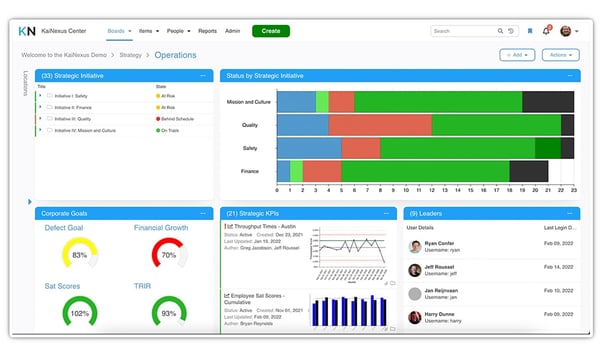 Qualitative & Quantitative Impact Reporting
Structured change management results in a variety of impact types. You should be able to track them all including:
Financial Impact – Standardize the way that the organization measures and reports on the financial impact of change and even crate approval processes if desired.
Time Savings – Reducing the time that a process takes can have a considerable impact on the organization. You should be able to assign a role-based financial value to that time if desired.
Quality Improvement – Financial impacts are fantastic, but reduced defects and errors should also be tracked.
Safety Improvement – Structured change can result in a measurable impact on the safety of employees, customers, and guests.
Improved Satisfaction – Employee satisfaction is a major factor in an organization's ability to sustain a culture of improvement, so it is a metric that you'll want to be able to track.


Culture Measurements
Continuous improvement culture thrives when everyone in the organization is responsible for and engaged in positive change. Your change management solution should make it easy to see how well it is taking root in yours.
Activity Reports – Keep track of who is truly engaged and who might need coaching or encouragement.
Cycle Time Reports – Stay on top of how long each stage of the improvement cycle is taking and react proactively when progress stalls.
Track Improvement Targets – Set goals for the number and impact of improvements and track progress toward them in real-time.
Engagement Scoring - Evaluate the health of your improvement culture by looking at the depth and breadth of engagement in improvement in your organization.


The change management solution you select should put you in command and control of your organization's improvements. Robust reporting with tools for visual management is an essential part of your software evaluation. This is an extensive list, but if you choose technology that provides this level of reporting functionality, you'll be sure that it meets your immediate and long-term needs.