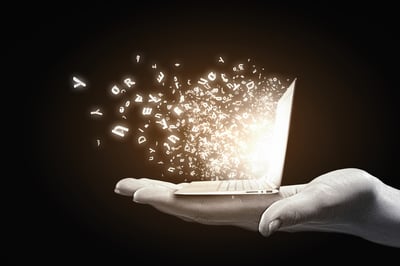 When we chat with people about making the switch to digital continuous improvement, many of the benefits are immediately apparent. People know that using software with workflow capabilities to manage projects is a much better option than using spreadsheets and email. They sense that having a platform designed for the purpose will streamline work and get individual projects across the finish line more often.
But when we share that project management is only the tip of the iceberg, often their eyes widen. That's when we get excited because the benefits of digital continuous improvement are much more significant than project management. When you collect data about improvement work in a central repository, you can begin to ask questions that can help guide decisions about how CI is implemented in your organization. These insights can have a profound impact.
Some of the questions you might ask are:


Which Departments, Teams, and Individuals are Actively Engaged?
The whole premise of continuous improvement is that each employee has the power and responsibility to engage in positive change every day. Of course, this engagement is rarely uniform. There are typically departments, teams, or individuals who are more actively engaged than others. When you digitize improvement data, you can identify these success stories, find out why they are working so well, and replicate that energy and skill set. What's more, you can recognize those who are engaged and share their best practices with the rest of the organization.
Related: Is Employee Engagement Software Worth the Investment?


How Successful is the Employee On-boarding Process?
Hopefully, CI principles and techniques are baked into your employee on-boarding process, but how well is that working? With digital continuous improvement, you can focus your attention from time to time on new employees. How long does it take before people suggest opportunities for improvement? Are new employees being given assignments related to CI projects? Do rapid improvement event teams include new hires? The data makes it possible to evaluate how well your newest team members are being introduced to CI and adapting to your culture.


Has Strategy Deployment Aligned Goals?
Most leaders believe that they do a good job of communicating the strategic goals to the organization, but that's not always the case. One way to tell if people understand and prioritize the most critical objectives is to look at the opportunities for improvement that get submitted and implemented. Are they aligned to any of the breakthrough goals that were identified during strategy deployment? Can you draw a line between the things that people are working on and the high-level goals? Do projects that will move your organization closer to "True North" get pushed to the head of the line? If you find a mismatch between what is happening on the ground, and the core strategy, the need for realignment is clear.
Related: The Formula for Successful Strategy Deployment


What is the Impact of Improvement?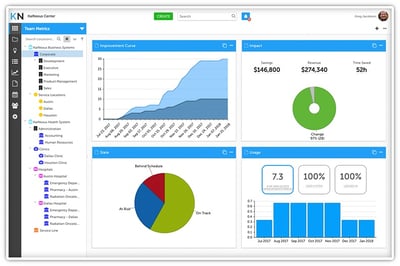 Once you have everyone rowing in the same direction, digital improvement software makes it possible to measure success against any of your key performance indicators. You can answer questions like:
How much money have we saved?
Are products getting to market faster?
Has customer satisfaction improved?
Are we producing fewer defects?
Has the number of safety incidents decreased?
When you can attach hard numbers to these types of metrics, people realize how big of a difference small changes, implemented frequently, can make. Impact measurement improves engagement, justifies continued investment, and helps spread the CI mindset.


Which Improvement Tools and Types Work Best?
If you dig into the results of each improvement project, you may find that there are particular types of improvements that produce the most impact. You may also find that specific tools seem to lead to effective change. For example, improvements that used the DMAIC cycle may outperform those that didn't. Maybe A3 projects produce longer-lasting results. Every organization is different, so the best source of data about what works for your team is your own.


Sometimes leaders need to make decisions based on what's in your gut, but most of the time, the best choices are driven by data. Implementing digital continuous improvement is how you can get real-time, accurate information about how CI is working for your organization. Doing so gives you the control necessary to make adjustments, align priorities, and celebrate success.