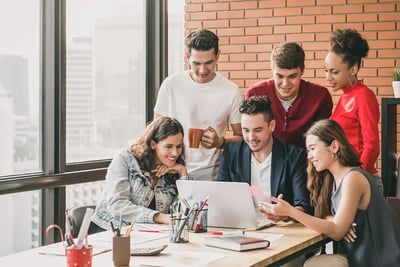 When most people evaluate improvement management software, they focus on the features of the solution, the support they will get from the provider, and the technical details such as security and reliability. Those are all critically important considerations, but none of it means anything if the employees don't use the solution.
Some interaction with the system can be enforced with policies and performance reviews. The optimal approach is to implement a solution in such a way the employees want to engage. When people get value out of a software system, they are far more likely to put effort into it. Here are the ways our customers have made that happen.


Demonstrate Strong Executive Support
Employees have an uncanny way of figuring out what is really important to their leaders and what is just another box to check. Solid executive support for your improvement solution is essential to employee adoption. What does that mean exactly? It means drawing a line between the system and operational decision making. People should see how leaders are using the information in the system and what inferences are being made. Leaders should ask questions based on what they see in the solution and reference the data when they address the organization.
Choose a Purpose-Built Solution
One of the biggest software implementation blunders occurs way before the users ever get their hands on the system. If you choose a solution that wasn't built for managing projects related to opportunities for improvement, you put roadblocks in the way of even the most engaged users. If people have to use workarounds or disconnected processes, they tend to exert only minimal effort. Instead, choose a solution that perfectly fits the need. It should be easy to enter opportunities from any device. Alerts and notifications should help ensure engagement, and the impact of improvement should be easy to calculate.


Cultivate a Culture of Positive Change
Software is only one element of continuous improvement. It's vital, but alone it is not enough to create an engine of positive change. In a culture of improvement, people are encouraged to take ownership of the processes they operate. Controlled experimentation is encouraged even if there is a risk of failure. Root causes of failures are investigated as an alternative to placing blame on employees. When quality improvement is part of how people think daily, they are delighted to use software tools that support it.


Reward the Behavior You Want to Encourage
Adding a requirement that each person enters a certain number of opportunities for improvement or complete a minimum number of tasks will get the minimum, but the ideal state is much more than that. A better approach is to recognize and reward those who are jumping in with both feet. When people see their peers receiving appreciation for engagement, they are more likely to get involved themselves. To make this easier, look for a solution with innate improvement broadcasting capabilities.


Don't Skimp on Training
We encourage everyone to look for an improvement management software solution that is intuitive and easy to use, but that doesn't mean that training can be overlooked. People need to understand how the system operates, how it is configured for the unique needs of your organization, and how the information it contains will be used. They also need to know how they can get help if they have questions and how their view can be tailored to their specific role. Keep in mind that improvement software training isn't a one-time affair. Once the system is implemented, training must be part of the onboarding process for every new employee.
Do One Last Thing
Our last tip is consistent with every other bit of management advice. If you want to know how to get your employees to use your improvement software solution, ask them! Any software implementation project is subject to opportunities for improvement. Your employees know what can be done better, so it always pays to ask.


Software implementation success depends on what you do from the moment you decide to evaluate solutions to long after your team has become comfortable with the tool. If you start with a good plan, create the right context for continuous improvement, and make adjustments as you go, your team can enjoy positive change at scale.