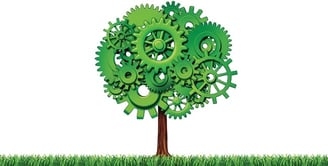 We frequently get the opportunity to chat with organizations that are considering rolling out a Kaizen management system. Some are in the early stages of introducing the concept of Kaizen, while others are incremental improvement veterans. One question that most of them share is, "What are the advantages of using software to support our Kaizen efforts?"
We're always glad when people ask because the answer is a good one.
Here are 6 of the reasons that investing in Kaizen management technology makes sense.
Consistency
A common problem in organizations that attempt to achieve a culture of continuous improvement without the structure of technology is that leaders in different parts of the company use their own methods for improvement management. Some use project management software, others use spreadsheets or whiteboards. This lack of consistency results in information silos, making it difficult for executives to get insight into the overall health of Kaizen within the organization. Kaizen management systems eliminate this problem by creating one universal version of the truth. There is only one method for employees to learn and the approach is applied to small easy changes and major top-down multi-improvement initiatives.


Management
We call it a "Kaizen management system" for a reason. Software designed to support structured improvement gives managers insight into the progress of improvement efforts. They receive alerts and notifications when action is required. They are easily able to recognize when progress is stalled and react to problems before they become major obstacles.


Accountability and Recognition
We like to talk about accountability and recognition together because understanding who is contributing to improvement gives leaders both the opportunity to coach those who are not and to recognize and reward those who are. Kaizen software makes this easy by giving managers visibility into each opportunity for improvement. They can see who is making suggestions and who is leading the charge for positive change. The best systems include built-in broadcasting capabilities so that everyone can offer congratulations when a milestone is achieved.


Collaboration
Many of the most meaningful improvements require that people from different parts of the organization work together to make something great happen. With a Kaizen management system, all of the information needed to move the ball forward is located in one place. Communication is streamlined and gaps between functional areas are bridged.


Memory
One of your organization's greatest assets is its institutional memory or tribal knowledge. It includes all of the past lessons and experiences of every employee. Sadly, in many organizations, this critical knowledge is lost when employees quit or change roles. Kaizen software preserves this collective wisdom by creating a database of every opportunity for improvement and the details about solving it. Your team can learn from past failures and duplicate what works.


Measurement
The best way to keep executives and employees excited about and engaged in Kaizen is to measure and share the business impact of improvement work. A Kaizen management system is a platform for doing exactly that. You can talk about improvement in terms of savings, revenue, lead times, customer satisfaction, safety, or whatever other metrics are important to your business.


In short, a Kaizen management system will help ensure that your improvement efforts will be successful over the long haul. It brings value to everyone from the CEO to front-line employees and helps ensure that everyone is working efficiently together. It will easily pay for itself over and over again.