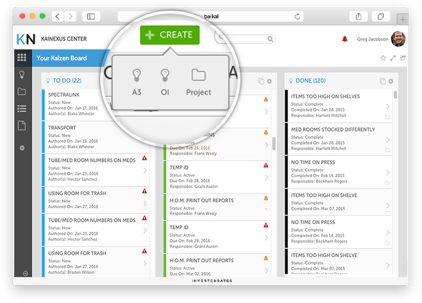 The practice of Kaizen along with the Six Sigma and Lean business process methodologies has been widespread in manufacturing for decades.
More recently other sectors have realized that the practices and principles of Kaizen can accelerate improvement in almost any organization.
Like manufacturers, leaders in every industry from construction to higher education are leveraging Kaizen software to support and perfect their efforts to execute on more opportunities for improvement.
For those who are not yet familiar with Kaizen software, we've put together this broad introduction.
What is Kaizen Software?
Kaizen software is technology designed to help organizations complete more improvements, track the results of improvement work, and maintain a historical record of every project. Modern solutions are typically cloud-based, accessed via the Internet, and available on mobile devices. Users simply log-in and gain access to the platform.
Listen to this Post and Subscribe to the Podcast:
Important features include:
Opportunity Capture: Employees can easily log in to the system and document any opportunities for improvement that they notice. They can attach images and documents to fully communicate the problem.
Workflow: Once an improvement is entered, it is routed to the appropriate manager or supervisor for review. If the opportunity will be implemented or further investigated, leaders can assign tasks and assemble teams.
Alerts and Notifications: Project participants can receive email alerts when tasks are assigned or when they are due. Managers receive notifications that let them know when work is stalled.
Impact Reports: Users can assess the results of improvement work with reports that show key performance indicators such as cost savings, safety improvements, improved satisfaction, decreased time to market, or other important business goals.
Opportunity Broadcast: When success is achieved, it can easily be shared with the entire organization.
Visual Management: Leaders can easily assess the health of Kaizen within the organization with digital boards that show improvement activity and results.
Search: Users can easily search the Kaizen software database to find current or completed improvement projects.
Kaizen Software Advantages
Organizations that effectively implement Kaizen software and achieve wide-spread adoption can expect to reap several rewards.
Capture More Opportunities for Improvement: Your employees almost certainly have ideas about how to improve processes and reduce waste. In order to capture these ideas, it pays to have a platform that makes it easy for employees to document and share them. It is also essential that people know each idea will be assessed and that many of them will be evaluated and implemented.
Complete More Projects: Improvement work is often done on top of the regular day-to-day tasks of the organization, so it isn't surprising that it so often gets put on the back burner. Kaizen software helps this work stay top of mind and makes it easy for managers to know when to get involved to remove roadblocks and ensure accountability.
Sustain Engagement: We've seen many organizations enthusiastically introduce Kaizen only to see the practice all but disappear in only a few months. Kaizen software helps resolve this by keeping improvement top of mind and by making the results of improvement apparent. When people can assign tangible value to this work, executives and front-line employees are more likely to stay involved and engaged.
Improve Collaboration: Kaizen software helps pull down the walls between various departments and teams. It makes it easy for cross-functional teams to work on improvement projects together and gives everyone visibility into the work being done across the organization.
Preserve Knowledge: Improvement software creates a repository of knowledge that becomes a valuable asset. People can look at how others have solved similar problems and learn from past mistakes and triumphs.
Implementation Tips
If you decide to implement Kaizen software, it is important to be thoughtful about how it is rolled out and used. Here are a few things to keep in mind.
Give Access to As Many People as Possible: Great ideas can come from anyone in the organization, so when it comes to Kaizen software, the more the merrier. The best solutions have flexible security settings so that you can control who has which type of access.
Provide Training: People need to be trained in both the philosophy of Kaizen and the technology itself. The solution you choose should be intuitive and easy to use, but training should not be neglected.
Look for Some Early Wins: Nothing gets people more excited about improvement work than seeing positive results. Especially in the beginning, take advantage of the impact reporting and improvement broadcasting to recognize success far and wide.
Connect Improvement and Performance: If Kaizen is to be fully embraced, improvement is an important part of everyone's job. Make sure that is clear and use data from your Kaizen software solution as a piece of each employee's performance evaluation.
Implementing Kaizen software is a good way to signal to the organization that improvement is a priority. It shows that leaders are willing to invest in tools that will make the work easier to execute and manage. Organizations of all shapes and sizes have found it to be well worth the investment.