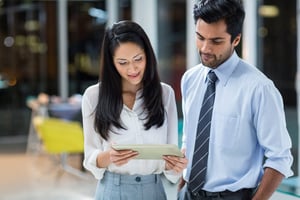 We get the chance to chat with a lot of frontline employees, managers, and executive leaders about all aspects of continuous improvement. We love to learn about how organizations are using the techniques and tools of Lean and other methodologies to improve results and reach their most important business goals. Gemba Walks are a practice that comes up quite a bit. Some leaders find them to be incredibly effective and welcomed by managers and staff alike, while others find them to be a chore with disappointing results.
Why is that?
Proper technique is certainly an issue (there are lots of ways that Gemba Walks can go wrong), but the use of software to support the effort also makes a big difference.
Listen to this Post and Subscribe to the Podcast:
Here's how it helps.


Capture Opportunities for Improvement in Real Time
One of the most important goals of a Gemba walk is to identify opportunities to improve processes. Those improvements are never implemented during the walk because making a meaningful change to the Standard Work requires reflection, if not a complete improvement cycle like PDSA or DMAIC. However, it is important to document any potential improvements and capture them immediately so that ideas are not lost or overwhelmed with other work.
Improvement software, particularly tools that are designed to be used on mobile devices, makes it easy to record areas for further review during the walk. Users can also add photos and other documents that will help speed the improvement project.
By creating a centralized location and format for opportunities for improvement, software helps bring consistency to Gemba Walks across the organization, improving results and making cross-functional collaboration easier.


Execute More Improvements
Because improvement software lets users capture ideas for improvement and execute on those ideas in the same platform, more improvements identified on a Gemba Walk actually get implemented.
It is easy for managers to assign improvement projects to individuals or teams, removing the friction that slows progress. Alerts and notifications keep everyone in the loop and help make sure that nothing falls through the cracks. Aside from the features that help organize and streamline this work, implementing technology of this sort sends a powerful signal to the team that incremental improvement is important, that managers aren't just asking for employee input for the sake of doing it, and that leadership is willing to make the investment necessary to propel positive change.


Measure Impact and Engagement
Business is increasingly becoming driven by data. You may think that your Gemba Walks are producing positive dividends, but can you prove it?
With the right improvement software, you can.
Sophisticated reporting over time allows you to measure the impact of each Gemba Walk generated improvement against key business metrics. You'll be able to calculate the ROI of each project, and thus the impact of Gemba Walks overall. This can be done for individual managers or across the entire organization. Leaders can also gain insight into the health of the improvement culture by assessing how many Gemba Walks are being done and by whom. This allows for effective coaching and recognition of star performers.
These days, people are regularly asked to do more with less. Time has become an extremely valuable commodity, so we aren't surprised when practices like Gemba Walks get less and less priority until they aren't done at all. The way to turn that around (for managers and their bosses) is to calculate the results in concrete terms. Once everyone sees how impactful they can be, they will become a "must-do" rather than a "should-have-done."


Get the Most Out of Each Improvement by Sharing Them
Another huge advantage of improvement software is that it creates a central repository of knowledge around improvement. A change made as the result of a Gemba Walk in one department may be applicable to others. Sharing results and experiences widely multiplies the force of each one. Bad outcomes can also be shared so that the same mistake is not made repeatedly. Broadcasting the positive results from improvement work has another desirable effect, it motivates others to get engaged and strive for better results.
Post-it notes and spreadsheets have their place, but our chats with folks interested in improvement indicate that Gemba Walks aren't it. The practice is much more effective with software designed to support them and the improvement work that follows. When you can capture, implement, measure and share opportunities for improvement, the possibilities for progress are unlimited.