Daily huddle meetings accompanied by the visual management tool of a huddle board are a favorite improvement management technique in several business methodologies including Lean and Agile management. Industries of all types use them to help teams stay on the same page and ensure that forward momentum on improvement projects is maintained.
However, as with many other business practices, sometimes an idea comes from a good place, but over time, in practice, it no longer achieves its purpose as well as it could.
We find that situation quite a bit when it comes to huddle boards. Teams get in the habit of the daily meeting, but after a while, it becomes a thing to check off the list every day, rather than a useful, efficient approach to improvement.
Here are some questions to ask yourself about your huddle meeting and boards that will help you determine if you are on the right track or need a course correction.
Are your meetings and boards effectively resulting in completed improvements?
This might be a tricky question to answer, especially if you are using a physical daily huddle board, but it is important. How many improvements have been completed in the last month, quarter, or year? What are the qualitative and quantitative results of those improvements on key business goals? If you can't answer these questions, it is difficult to justify the time and effort involved in your daily huddles. It is also difficult to improve employee engagement if you can't be clear about the positive results.
Improvement management software can help track all of the completed improvements and calculate the short and long-term business impacts. Learn more here.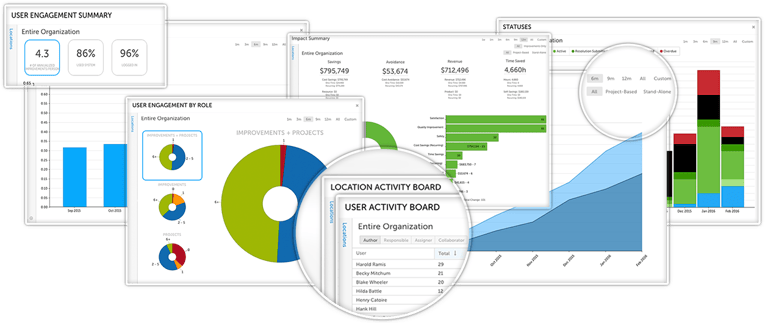 Are daily huddle meetings used instead of structured improvement?
Daily huddle meetings driven by the huddle board are designed to identify and remove obstacles to current improvement projects and collect ideas for future improvement. They are not the right forum for brainstorming ideas or solving problems, nor should they merely serve status updates. Once an opportunity for improvement is selected for execution, a structured improvement cycle such as PDSA or DMAIC should be started with a focused team of stakeholders.
With improvement software in place, a status update during the daily huddle should not be necessary because project tracking is available to everyone in real time.


Is your team all in the same place at the same time every day?
These days workforces tend to be distributed. People work from home or travel on business. The reason that daily huddles are so effective is that they happen every day. If your team is spread out, a physical huddle board doesn't make a lot of sense. Even if people join the call via telephone, they can't be as helpful or engaged as those with a view of your visual management tool. If you have team members who do or could participate remotely, it makes sense to consider an online, digital daily huddle board so that people can see up-to-date information from anywhere.


Are selected improvements in line with company goals?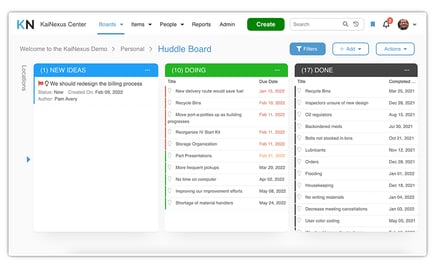 Most leaders will tell you that there is no end to the number of improvement projects that could be implemented. That's why it is essential to consider the overall company objectives (often guided by Hoshin Kanri) when selecting which opportunities to take on.
This is a common struggle with physical huddle boards because they are disconnected from any strategy documents or visualizations. Improvement software with boards for both daily management and corporate strategy is an effective way to bring both of these essential ideas together.
It's a bit like driving a car. You need to keep it on the road and manage your speed and direction, but you also need to know where you are trying to go. You need a dashboard and local knowledge or a good GPS.


Does leadership have adequate visibility into improvement work?
While a daily huddle is a great technique for managing an individual team, it doesn't provide much insight to top leaders about what is happening on the front lines. Walking from a board to board and making sense of them is inefficient if not impossible for members of the executive leadership team. However, the information contained on boards could be very valuable if available online. Leaders can track the progress of projects, assess the results of completed improvements, and ask smart questions of team members. If the executive team doesn't have a way to monitor the health of your improvement culture, a rethinking of huddle boards is a great idea.
As with any continuous improvement tool, you need to be very clear about the why what, and how of daily huddle boards. If yours is serving your purposes efficiently and effectively, that's fantastic. If not, a new, more sophisticated and modern digital approach may be the best call.