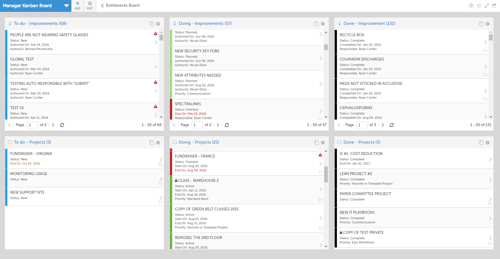 Kanban boards are excellent visual management tools for tracking work-in-progress, identifying roadblocks, and ensuring a free-flowing value stream. The idea started with inventory cards helping workers at Toyota ensure that the right parts were available just in time. Leaders took the concept and used it to track any type of work, often on a poster or whiteboard. These days, you'll find them in hospitals, software firms, construction offices, schools, and more.
While paper Kanban boards are cheap and easy, there are some limitations to their value. (Kind of like spreadsheets.) That's why more and more companies are digitizing their boards with Kanban board software that operates on the internet. Organizations that do so report getting projects completed more quickly and getting more impact from the improvements that get implemented. Here are some of the reasons why.


1 – Software Makes Kanban Boards Easily Accessible by Everyone from Everywhere
Kanban boards are often used during daily huddle meetings, which is excellent for those who happen to be in the workplace, but these days work has become more distributed. Many people telecommute, lots of organization have more than one location, and people travel often. An online Kanban board means that distance doesn't need to hamper collaboration. People can participate in meetings, check the status of projects, or add information to a task from wherever they are. If someone has a great idea over the weekend, they can add it to the board immediately.
2 – Alerts and Notifications to Get Projects Done Faster
One of the biggest challenges with paper Kanban boards is that they are passive. If you miss a task or there's a backlog of work developing, the board won't grab you and remind you about it as you walk by. Kanban software can do exactly that by enabling a workflow that is supported with alerts and notifications. If new ideas need attention, managers will get an email letting them know. The same is true if a deadline is missed. When everyone gets the necessary reminders, projects proceed more quickly, and fewer challenges go unnoticed.


3 – Personalized Visual Management Gives Quick Insight
The best things about a well-designed Kanban board is that you can learn a lot from just a glance. Software enhances the experience by allowing users to set up their dashboards that are configured in a way that is most meaningful to them. Even members of the same team may have different data needs, so it makes sense to provide a flexible framework for each user.


4 – Leaders Can Management Multiple Boards or Combine Data
Physical Kanban boards make it difficult for leaders to get a sense of how all of the teams are doing in terms of managing flow. Even if they walked from board to board, making sense of all of that information in different places and formats is difficult. Kanban board software allows leaders to review and manage as many boards as they like. Data can be combined in various ways to bring more in-depth insight into the activities, engagement, and results of the entire organization.


5 – You Develop a Repository of Information
Paper Kanban boards are great snapshots of what is happening right now, but they don't provide context or details about what has happened before or what I planned next. When a project is completed and removed from the board, its history is lost or relegated to an archive somewhere. With Kanban software, all of the relevant information about each project is retained in a searchable database, making it possible for people to go back and review what's been done before.


6 – Projects Can Are with Strategic Priorities
We all want every team to be engaged in positive change daily, but that's much more powerful if everyone is working on projects related to the strategic goals and priorities of the organization. Disconnected paper boards don't do much to make that happen, but software can. Objectives can be cascaded down throughout the organization to the individual level so that everyone is rowing in the same direction. Each project can be linked to an annual or long-term goal. Leaders can get a sense for which targets are being well supported and which need additional activity.


7 – Impact Can Be Measured
Some projects have an immediate payoff, while others result in cost-savings or other quantifiable benefits over the long term. In either case, it is essential to understand how each change impacted the most important key performance indicators. Kanban board software makes it possible to track the results of each project over any period. You can add up all of the results to determine precisely how improvement is transforming the company.


8 – Sharing Success Spreads Improvement
Success is like a snowball. Once it gets rolling, it grows and grows. The best Kanban solutions have built-in improvement broadcasting so that sharing success becomes a natural part of the process. People can learn from what's worked for their peers and be reminded that positive change is a foundational element of the organization's culture.


We're big fans of any attempt at structuring improvement and visual management, so if your paper Kanban boards are working for you, that's awesome. But if you apply the continuous improvement mindset to the practice of Kanban, you might agree that switching to software-based boards would be a smart move.