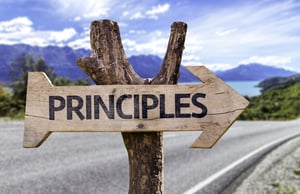 We spend a lot of time and effort on this blog digging into the details of how to start, spread, and sustain a Lean culture. We think it is important to get very specific about the Lean tools and techniques that produce measurable results for healthcare organizations. So of course, we care a lot about technology solutions that bring it all together. However, sometimes it is a good idea to pull back and move away from the details. Once in a while, it pays to get the 30,000-foot view and remember why we are doing this at all.
What drives the Lean approach in healthcare and what fundamental values should drive each tactical decision?
These six principles of Lean healthcare arrived at by John Toussaint, MD, CEO emeritus of ThedaCare and CEO of the ThedaCare Center for Healthcare Value in Appleton, Wis., and Leonard L. Berry, distinguished professor of marketing at the Mays Business School of Texas A&M University, published in Mayo Clinic Proceedings are an excellent place to start.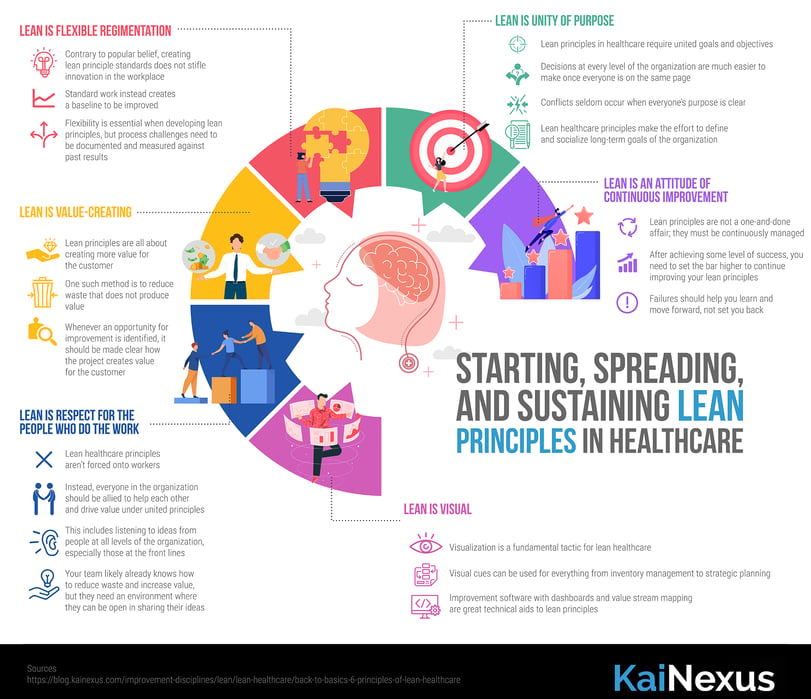 Lean is an attitude of continuous improvement.
Lean is not a thing that you achieve one day and check it off of your "To Do" list. It's more like the idea of health itself. You don't just become healthy and then move onto something else. You must manage the health of your Lean organization every day. Once you achieve some degree of success, you set the bar ever higher. Lean practitioners work toward perfection, knowing that it is impossible to achieve, but worth absolutely worth the endeavor. Failure is okay as long as you are always failing forward.


Lean is value-creating.
When we ask people to describe Lean healthcare, the first thing many folks mention is waste reduction. Eliminating waste is undoubtedly a result of lean implementation, but why? It's because ultimately, Lean healthcare is about creating value for the customer and waste does not produce value. Each time an opportunity for improvement is identified and implemented, everyone involved should be clear on how the project is expected to create value as defined by the customer.


Lean is the unity of purpose.
When everyone has aligned goals and objectives, decision making is easier at every level of the organization. Conflicts are rare when everyone is clear about the purpose of the organization and the values that drive it. This is why Lean healthcare organizations make an effort to define and socialize the long-term, breakthrough goals of the organization.


Lean is respect for the people who do the work.
Lean healthcare is not something that is imposed on workers. When properly executed, everyone in the organization is allied in driving value and helping every single employee do their best work. That means listening to ideas from people on the front lines and getting every person involved in improvement. The chances are that your team already knows how to eliminate waste and provide better experiences for customers. When leaders respect the wisdom of the people who do the work, they unlock an enormous amount of hidden potential.


Lean is visual.
Visualization may sound more like a tactic than a principle, but it is indeed fundamental to the Lean approach. Visual cues can be used for everything from inventory management, to strategic planning. Whatever the challenge, Lean thinkers always look for a way to use images to convey information. That's why tools like Kanban boards, value stream mapping, and improvement software with dashboards are so popular.
Lean is flexible regimentation.
One of the most challenging ideas for people to grasp about Lean healthcare is that standard work is necessary for innovation. People fear that creating a standard and expecting everyone to stick to it will stifle innovation and bring improvement to a screeching halt. Fortunately, that's not the case at all. Standard work simply creates the baseline for improvement. After all, how will you know that the results of a process are better than what you were doing before if the original method isn't performed consistently for a period? Flexibility is essential in lean, but process changes should always be deliberate, documented, and measured against past results.


We think it is useful to remind the entire team about the principles of Lean healthcare on a regular basis. When these ideas are top of mind, people will make the best use of the tools and techniques that you've selected to support them.