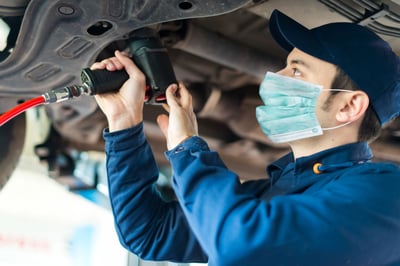 Manufacturers of all kinds seek to achieve continuous quality improvement because it ensures the consistency of products delivered to customers and protects against the competition. It also paves the path to compliance with industry-specific standards. This is crucial in the automotive sector because defective vehicle parts may lead to expensive recalls or worse accidents that cost lives.
Fortunately, continuous improvement has a long history in automotive manufacturing. Many of the tools and techniques widely used by organizations worldwide were explicitly developed to ensure the quality and efficiency of automotive manufacturing. Toyota was a pioneer of many of the CQI approaches used today.
As you might imagine, the benefits of a successful continuous improvement program are significant, including:


Product Consistency
It is essential that all automotive products that make it off the manufacturing line are fully operational. Also, the capabilities of each part produced need to match the needs of end-users. An effective quality program introduces pro-active solutions to eliminate the delivery of defective or unnecessary parts and products. Problems are identified quickly and immediately resolved, well before the products leave the manufacturing line. Consistency is possible when decisions are made based on real-time data rather than guesses.


Compliance With Standards
Automotive manufacturers must comply with the standards set by the International Organization for Standardization (ISO). Manufacturing plants are certified only once all of the conditions are met. The standards ensure the quality, safety, and efficiency of the products produced. In addition, ISO requires continued training and development programs for staff, enhancing their ability to participate in the effort to ensure every product meets the standards and customers' needs.


Process Efficiency
With continuous improvement tools in place, producers can deliver products to customers more quickly. Quality improvement processes mitigate issues that can lead to time-consuming delays in the delivery of the parts manufactured.


Maximum Resource Utilization
Continuous quality improvement is essential for the automotive manufacturing industry because it allows for resource-effectiveness in terms of time and human resources, significantly reducing manufacturing costs. Quality problems can lead to waste of raw materials, production downtime, and expensive product recalls.
For these reasons, the case for a structured approach to continuous improvement in automotive manufacturing is compelling. But how can it be achieved?

Here are six simple steps that any auto manufacturing organization can implement.



1. Adopt a Team Mindset
Quality and efficiency won't be sustainably improved by individuals working on their own. To implement lasting and meaningful change in manufacturing processes, a team-based approach is required. By involving multiple functional areas in the search for improved quality, you get various perspectives and areas of expertise. It is also essential to understand the history of the process. Understanding why the process is the way it is today is an important first step to uncovering improvement opportunities. Leaders should always include process operators in discussions of positive change.


2. Define Value from the Customer's Point of View
It is common for automotive manufacturers to try to make a product "better" without really understanding what better means to the customer. By increasing cost, producers can almost always add features or functions to a product, but the additional cost may not be worth it to the customer. As part of your continuous improvement program, someone should always serve as an advocate for the customer.


3. Develop a Common Understanding of the Cost of Quality
The cost to fix a product defect once it reaches a customer is inordinately higher than the cost to fix the problem's cause before the product is created. Automotive manufacturing staff must be trained to understand the cost factors involved with warranty repair or replacement and the cost of a damaged reputation. Once every team member applies this perspective, a desire to find the root cause for problem-solving becomes second nature.


4. Solve Problems Completely
All too often, manufacturing quality improvements target the symptoms of process failures rather than the root causes. This usually takes the form of adding quality inspection steps or rework stations that make it easier to find and fix defects. Instead, the desire to find root causes should be developed within teams. When teams develop the ability (often through five-why analysis) to uncover the root cause of defects in the manufacturing process and a test that verifies the capacity to turn-on and turn-off the problem, precise solutions to problems will be implemented that will ensure that the problem does not return.


5. Practice Strong Process Discipline
Throughout the quality improvement process, teams must practice strong process discipline. Depending on the product, deviation from Standard Work without a structured improvement cycle could have serious quality repercussions. While the organization should avoid the unnecessary bureaucracy that inhibits innovation, some structure must be employed to maintain consistency.


6. Leverage Improvement Management Technology
One essential tool for structured improvement in the automotive industry is continuous improvement software. With the right platform in place, employees can report opportunities for improvement, manage projects to improve efficiency and reduce waste and measure the impact of change over time. In addition, the software becomes the home for Standard Work, supporting data, and institutional knowledge. With all of the relevant information about past improvement work in one easily accessible online tool, everyone gets better at making good decisions faster.
By following these six steps, automotive manufacturing leaders can develop effective quality improvement programs within their organizations and reap substantial benefits.