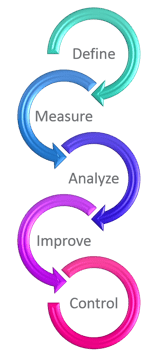 DMAIC is a data-driven, structured, customer-centric problem solving methodology. Each phase builds on the last to arrive at effective solutions for challenging problems. Define tells you what to measure. Measure tells you what to analyze. Analyze tells you what to improve. And Improve tells you what to control. Each phase has very specific objectives and is supported by a particular set of activities. Let's take a closer look at them.
Define
The Define phase is all about selecting high-impact opportunities for improvement and understanding which metrics will indicate project success. During this phase the leaders will:
Identify or validate the improvement opportunity
Outline the scope of the project
Develop the business process and critical customer requirements
Document business opportunity
Estimate project impact
Identify stakeholders
Form the team
Create team charter
Identify and map related business processes
Measure
During the Measure phase, existing processes are documented and a baseline is established. Critical activities at this point include:
Developing the methodology by which data will be collected to evaluate success
Identifying input, processes, and output indicators
Gathering, plottiing, and analyzing current state data
Completing failure modes and effects analysis
Analyze
The goal of the Analyze phase is to find and validate the root causes of business problems and ensure that improvement is focused on causes, rather than symptoms. To do this, you will:
Develop a problem statement
Complete a root cause verification analysis
Implement process control
Conduct regression analysis
Design measurable improvement experiments
Develop a plan for improvement
Improve
Once you reach the Improvement phase, it is time to determine exactly which steps will be taken and begin to roll out the changes that analysis has prescribed. The following activities are common:
Generate and evaluate solution ideas
Determine expected solution benefits
Develop revised process maps and plans
Define a pilot solution and plan
Communicate solutions to all stakeholders
Control
The objective of the last stage is to develop the monitoring processes and procedures that will ensure long-term success. To do so:
Verify reduction in failures due to the targeted root cause
Determine if additional improvement is necessary to achieve project goal
Identify and document replication and standardization opportunities
Update Standard Work documentation
Integrate lessons learned
Once the Control phase is complete, work on the next opportunity for improvement can begin again at the Define phase.
Although it is most commonly associated with Six Sigma, DMAIC can be used as a standalone tool for process improvement. Close adherence to the process of DMAIC helps leaders and their teams ensure that improvement projects are organized, effective, and repeatable.